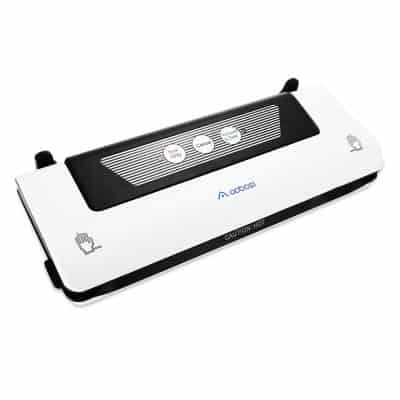 The Aobosi YVS-103 Vacuum Sealer is a great choice for someone who doesn't need a fully featured vacuum sealer, wants something better than average quality, and at a great budget price.
"
PROS
Compact size for easy storage.
Easy to read and use control panel.
Seals dry foods or frozen liquids.
Quality was better than expected and is a good value for the price.
CONS
No on board bag roll storage.
No accessory port.
This item is out of stock or is having supply chain problems making the price much higher than normal. We don't recommend purchasing this model right now.
Aobosi YVS-103 Review
The Aobosi YVS-103 Vacuum Sealer is a value priced vacuum sealer that's best suited for someone who only needs a vacuum sealer occasionally. The Aobosi Vacuum Sealer is a bare bones featured model, that only has the essential features, that said the quality is better than average, and it's priced at $49.99 which is about 20% less than similarly equipped models (see other Aobosi Small Appliance Reviews). To operate this model, you place the bag on the sealing bar, close the lid and when you hear a click you press the appropriate sealing button. The controls are well laid out and easy to understand, something that's often a problem at this price point. It has "gentle" or pulse mode which is another feature you don't always see at this price. The quality here isn't as high as our #2 choice the NutriChef PKVS18SL, but it's better than most models and has a great price point.
For what it does we don't have any real complaints with this model, there are some things you should be aware of. There's no on-board bag roll storage or cutter. There is no accessory port, but at this price we think it's a reasonable trade-off. There is no marinade mode, so if you plan on doing a lot of Sous Vide Cooking this probably isn't the best choice. If you need a vacuum sealer, but don't need it often, but want something that's better than average quality this is a great choice.
Aobosi YVS-103 Features
Comes with starter kit which includes: (1) 11"x9ft bag roll.
Value Priced.
Slimline design.
Buttons are clearly labeled and it's very easy to use.
Seals only dry food or frozen liquids.
Has manual bag sealing giving you more control.
Aobosi YVS-103 Videos
Sorry no videos are available for this model.
Aobosi YVS-103 Compare Models
Review Summary

Aobosi Yvs-103 Vacuum Sealer
If you're looking for an occasional use vacuum sealer at a value price the Aobosi vacuum sealer is is good model to put on your short list.
Reviewer:
CulinaryReviewer.com Staff
-
April 2, 2019
Rating:
Read Our Full Aobosi YVS-103 Review
Related Product
Vacuum Sealer Related Pages