Busy people may not have the time to read dozens of reviews to find the best products, that's where our Best Small Appliance Guides come in. Our expert Kitchen Staff has reviewed over 140 products and narrowed it down to the top 2-3 products in each category. Use the JUMP NAVIGATION to quickly find the section you're looking for. You can follow the links to read more detailed reviews.
Best Vacuum Sealer Reviews


Best Vacuum Sealer Bags Reviews
Best Vacuum Sealer Bag Compatability Chart


Related Pages
Featured Product Review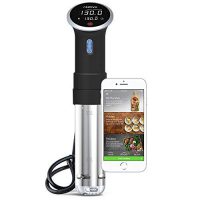 Anova Bluetooth Sous Vide Sous Vide
The Anova Bluetooth Sous Vide Precision Cooker is our higher rated sous vide model, it strikes a perfect balance between quality, features, and pricing. It's the perfect choice for almost everyone.
Reviewer:
CulinaryReviewer.com Staff
-
April 13, 2023
Rating:
Read Our Full Anova Bluetooth Sous Vide Review
Related Product
Related Pages