Our Staff of Kitchen Experts reviewed 18 different brands of Vacuum Sealer Bags and found these were the best budget priced brands. They are all Universal Vacuum Sealer Bags, meaning they will work in most brands of Vacuum Sealers. If you want to see our all of our reviews visit our Vacuum Sealer Bag Reviews page.
Budget Priced Vacuum Sealer Bag Compatability Chart


Featured Vacuum Sealer Bags Review
OutOfAir
,
FoodVacBags
,
Avid Armor
,
FoodSaver
,
CaseKix
,
Nutri-Lock
, and
Simple Houseware
Featured Product Review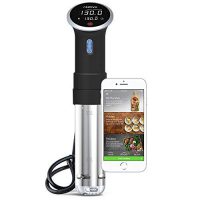 Anova Bluetooth Sous Vide Sous Vide
The Anova Bluetooth Sous Vide Precision Cooker is our higher rated sous vide model, it strikes a perfect balance between quality, features, and pricing. It's the perfect choice for almost everyone.
Reviewer:
CulinaryReviewer.com Staff
-
March 27, 2019
Rating:
Read Our Full Anova Bluetooth Sous Vide Review
Related Product
Vacuum Sealer Related Pages