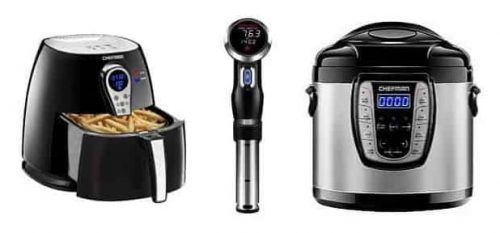 Chefman is an American small appliance and housewares company. They focus on kitchen tools, small appliances, and gadgets that help you save time, add value and allow you to spend less time in the kitchen and more time with friends and family. We have reviewed 1 ChefMan product. Their product line includes Air Fryers, Blenders, Blenderss, Food Processors, Hand Mixer, Hand Mixers, Ovens, Slow Cookers, Slow Cookerss, Sous Vide Precision Cookers, Toasters, Toasters Ovens and waffle Makers. If you're looking to replace lost or missing directions visit our ChefMan Directions, Instructions & Manuals page. Chefman products come with the following warranty: 3 Years.
Chefman Sous Vide Reviews
Our reviewers looked at 33 different Sous Vide models including 1 from Chefman. We reviewed each model for quality, features offered, ease of use, controls, power, flow rate, and connectivity. You can read a more detailed review by clicking the link in the table below.
Featured Chefman Product Review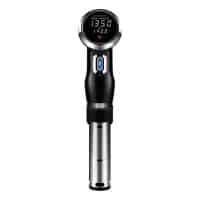 Chefman Sous Vide Sous Vide
The Chefman Sous Vide gets high marks for quality and ease of use, it is missing some of the higher end features and is best suited for a moderate home chef.
Reviewer:
CulinaryReviewer.com Staff
-
March 30, 2019
Rating:
Read Our Full Chefman Sous Vide Review
Related Product
Related Pages