The Joule Sous Vide Precision Cooker is a well-made sleek compact unit that puts out a lot of power. It has WiFi and Bluetooth connectivity, but lacks onboard controls and is pricey compared to other similar models.
PROS
Durable high-quality workmanship.
Compact and sleek design.
1100 Watts Power.
Magnetic clamp.
CONS
No on board controls.
Expensive compared to other models.
ChefSteps Joule Sous Vide Review
The Joule Sous Vide Precision Cooker from ChefSteps was one of the more interesting and unique models that we reviewed. It was unique in size, shape and design, but did make some trade-offs as far as usability. It has both Bluetooth and WiFi Connectivity and it's also compatible with Amazon Alexa Home Devices. The downside is it's only controllable via the app. It has no controls on the actual unit.
ChefSteps Joule Sous Vide Features
Very high-quality product.
Phone App connects via Bluetooth
Phone App connects via WiFi
Amazon Alexa compatible.
1100 Watts
2.1 GPM Flow Rate.
10 Gallon Water Capacity.
Tension Clamp.
Heavy duty polycarbonate housing.
ChefSteps Joule Sous Vide Design and Feel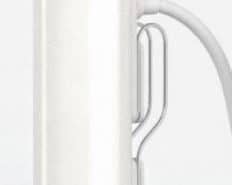 This model was 11" tall with an immersion tube that was just under 2". Compared to the other models that were in the 15" range this model was amazingly small. This model was also extremely light coming in 1.3 pounds, compared to most models averaging 2 pounds, making it the lightest of all of the models we saw. If you have a tiny apartment or kitchen and storage space is a concern, this model should jump to the top of your short list. This model is mostly made of very strong white polycarbonate material. At the top and bottom, there are two stainless steel rings. It's very important that we mention the biggest difference between the Joule and other immersion cookers, this model has no controls on the unit, everything is controlled via WiFi. When we say no controls we really mean no controls at all. There is a multi-color light at the top of the model to let you know it has power and what's going on, but that it. This lack of controls makes the unit very durable and strong compared to other models. Another note the entire unit is water resistant if you accidentally knock it over or drop it into the water just fish it out and there's nothing to worry about. This model comes with a tension clip that allows you to mount it on the side of nearly any vessel. It opens fairly wide and should accommodate most choices. You may have an issue if you are using it on a thick insulated cooler. What's really interesting is on the bottom of the unit is an orange soft rubber pad, and inside that pad is a neodymium magnet. This is a high-powered magnet that will grab hold of the metal base of any magnetic pot. Not all pots are magnetic, any anodized aluminium pots, for example, are not magnetic. I have a Thermador induction cooktop and use a lot of Le Creuset cookware which is magnetic. The soft rubber pad keeps the magnet from scratching the bottom of the pot, it's a really well thought out nice touch.
ChefSteps Joule Sous Vide Power, Wattage and GPM

Despite its small size the Joule precision cooker puts out an impressive 1100 watts of heating power, putting it near the top of all the models we reviewed. It has a low water height of 1.25" and high water mark of 8" giving it the widest range of all the models we reviewed. There are no external markings indicating where the min/max levels are we wish they had put some sort of indicator on the outside of the tube. The unit has a pump rate of 2.1 GPM which was on the high side of the models we looked at and it was average as far as noise level.
The controls on the Joule Sous Vide is the part that left us most confused. There are absolutely no outside controls or readouts at all, none. Everything is controlled via Bluetooth or Wifi from the app. While we didn't have any problems or real complaints with the app and controlling the unit it just seemed a little weird. To be honest this was our biggest complaint about this model.
This model has a very high price ($179.00 ) compared to some of the other models. The model is very strong and feels high quality. We loved the magnetic base, and the power and flow rate were all top notch. Being at the top of the price spectrum and not getting any controls might be a little to weird for some people. If you aren't bothered by the lack of controls or need a small unit for storage reasons, this model makes a great choice.
ChefSteps Joule Sous Vide Videos
ChefSteps Joule Sous Vide Compare Models
ChefSteps Joule Sous Vide Related Articles
.
Review Summary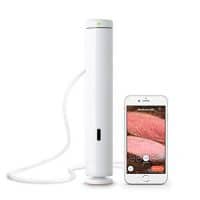 Chefsteps Joule Sous Vide Sous Vide
The ChefSteps Joule brings high power and extremely high quality and durability together in one unique product. It's Bluetooth, Wifi and Amazon Alexa Compatibile, however all of this doesn't come cheap.
Reviewer:
CulinaryReviewer.com Staff
-
April 21, 2019
Rating:
Read Our Full ChefSteps Joule Sous Vide Review
Related Product
Sous Vide Related Pages