Our Crenova Vacuum Sealer Reviews help you find the Vacuum Sealer that's right for your needs. Our reviews look at features, ease of use, quality, and price. You can see the results in the table below, or use the Comparison Table to compare features and read a more detailed review. We also have a separate page for Crenova Instruction Manuals.
CrenovaVacuum Sealer Reviews


CrenovaVacuum Sealer Bags Reviews
Our reviews showed that the best Crenova Vacuum Sealer is the Crenova VS100S. While this model lacked the on-board bag roll storage found in the Crenova V60, we felt the quality was slightly better on the VS100S. Both models were manual sealers, but were fairly easy to operate and understand. If you're going to do a lot of vacuum sealing you should probably choose a higher quality model, like the NutriChef PKVS18SL, but if you're only going to use it occasionally you should be fine.
Crenova Vacuum Sealer Comparison Table


All of the Crenova Vacuum Sealers are manually operated vacuum sealers. You can use them with bags or rolls, the Crenova V60 comes with built in bag roll storage. They all work with both wet and dry food items. All Crenova Vacuum Sealers come with a 1 year warranty, and make a perfect companion for someone getting ready to start sous vide cooking.
Crenova Vacuum Sealers FAQ
Can Crenova Vacuum Sealers seal mason jars
Crenova Vacuum Sealers come with an accessory hose allowing you to seal Canisters or Containers, to seal mason Jars you're going to need the additional Canning Accessory.
Can I use any brand of vacuum sealer bags
You should only use Vacuum Sealer Bags - Crenova Vacuum Sealer Bags, each manufacturers machine seals at a slightly different temperature, if you use the wrong bags your bags may not seal or they may melt and damage your vacuum sealer.
You can learn more about Vacuum Sealers in our Vacuum Sealer Buying Guide, How to Choose A Vacuum Sealer Guide, or Vacuum Sealer FAQ. For help finding the right model be sure to visit our Vacuum Sealer Reviews or Vacuum Sealer Bag Reviews pages.
Featured Vacuum Sealer Review


Featured Product Review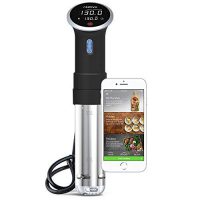 Anova Bluetooth Sous Vide Sous Vide
The Anova Bluetooth Sous Vide Precision Cooker is our higher rated sous vide model, it strikes a perfect balance between quality, features, and pricing. It's the perfect choice for almost everyone.
Reviewer:
CulinaryReviewer.com Staff
-
November 11, 2023
Rating:
Read Our Full Anova Bluetooth Sous Vide Review
Related Product
Vacuum Sealer Related Links