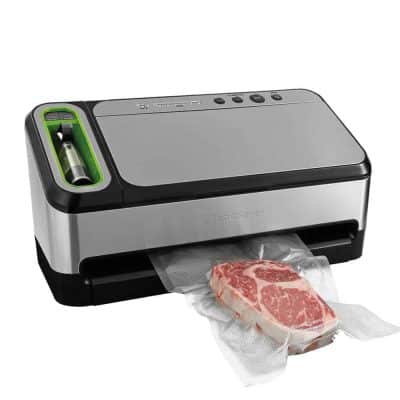 One of our highest rated vacuum sealers, this model has been used in kitchens across the country for years and has proven to be a reliable and dependable kitchen appliance. It features automatic sealing, wet and dry food modes, a retractable accessory hose, and on-board bag storage and cutting.
"
PROS
Automatic bag sealing operation.
Seals wet/dry foods.
Pulse mode for delicate items.
Comes with a retractable accessory hose.
CONS
Can produce a lot of bag waste.
Can be noisy.
Large countertop footprint.
FoodSaver 4800 Review
The FoodSaver 4800 is the top of the line model in classic FoodSaver Vacuum Sealer configuration. This design has been tested and used in thousands of kitchens over the years and is proven to be reliable. It's automatic sealing functionality make it extremely easy to use for almost everyone. You can vacuum seal both wet and dry items allowing introduce a marinade to your meats. It also features a removable drip tray for catching excess liquid that's dishwasher safe helping you keep things sanitary. It has built in bag storage and cutter, so you don't have to be searching all over your kitchen when you want to vacuum seal something. If you prefer to use precut bags, or vacuum sealable canisters this model comes with a retractable accessory hose giving you additional flexibility with what you can seal.
One of the biggest complaints from this product series was the amount of bag waste the automatic sealer produced. If you're willing to give up the automatic sealer to reduce the waste look at the the FoodSaver FM5200, it addresses this problem. Our second complaint applies to all of the FoodSaver vacuum sealers, and it's that they are very noisy when you're operating them. Lastly, you do want to be aware of its size, at 11" x 20" x 12" it does take up a good bit of counter space.
FoodSaver 4800 Features
Comes with starter kit which includes: (1) 11" x 10' roll of custom cut bags, (3) 1-quart pre-cut bags, (2) 1-gallon pre-cut bags, (3) 1-quart vacuum zipper bags, (2) 1-gallon vacuum zipper bags.
Improved controls and button placement over other 4000 series models.
Easiest FoodSaver model to operate.
Has marinate mode enabling you to seal both wet and dry foods.
Has settings for different food modes.
Has pulse mode allowing you to seal soft or delicate foods.
Has built in storage for food bag roll.
Automatically seals bags for easy use.
Has accessory hose allowing you more flexibility with sealing other types of food storage containers.
Has dishwasher safe removable drip tray for easy cleanup when sealing liquids or marinades.
FoodSaver 4800 Videos
FoodSaver 4800 Compare Models
FoodSaver 4800 Related Articles
Review Summary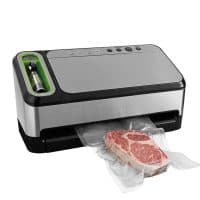 Foodsaver 4800 Vacuum Sealer
The FoodSaver 4800 features FoodSaver's time tested vacuum sealer design, most useful and convenient features, at a great price.
Reviewer:
CulinaryReviewer.com Staff
-
March 25, 2019
Rating:
Read Our Full FoodSaver 4800 Review
Related Product
Vacuum Sealer Related Pages