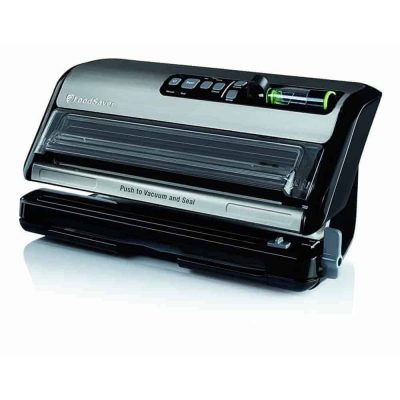 This is our highest rated vacuum sealer, has all of the features you have come to expect from FoodSaver, with their new see-through vacuum sealer window, which reduces your bag waste by up to 30%. It can vacuum seal wet/dry foods, has pulse mode, and an accessory hose, giving you flexibility in what types of food storage containers you can seal. We feel that this model is the vacuum sealer that is the best choice for most consumers.
"
PROS
New clear vacuum sealing window, which reduces waste.
Seals wet/dry foods.
Pulse mode for delicate items.
Comes with a retractable accessory hose.
CONS
Can be noisy.
Bag cutter feels flimsy.
Final sealing is manual and requires two hands to operate.
Large countertop footprint.
FoodSaver FM5200 Review
The FoodSaver FM5200 is the latest vacuum sealer from FoodSaver. This model comes with all of the great features FoodSaver Vacuum Sealer are known for with a few improvements. It features a revolutionary new vacuum sealing window allowing you to see exactly where you are sealing the bag and reducing the amount of bag waste. It features on-board bag roll storage area and a built in cutter and sealer, that reduces the amount of time it takes for you to seal a food item. It features both wet and dry food modes, allowing you to marinade meats making your meals taste better. It features a removable drip tray that allows you to catch any excess liquid from the sealing process, making cleanup a breeze. The drip tray is also dishwasher safe so you can keep things clean and hygienic. This model also comes with a retractable accessory hose, allowing you seal ZipLoc bags, vacuum seal containers with a vacuum sealing connector. If you're looking for a vacuum sealer that has all of the features you're going to want and that will last in your kitchen, this is a model to consider and our top recommendation.
If you've ever used another FoodSaver model, you may have gotten used to the automatic bag sealing process, where you just inserted the bag the machine grabbed hold of it, and automatically started the vacuum sealing process. This model requires you insert the bag where you want it to seal and then press down on the seal bar with the back of both of your hands. It takes a few tries before you get used to the process. It's not as easy to use as the automatic sealing machines, but it does cut down on the amount of excess bag you waste, which ends up saving you money in the long run. Like all of the FoodSaver models this unit can be noisy when you're using it, you can't comfortably talk over it when it's running. It's 18" x 10" x 10" so it is going to take up a bit of space on your countertop. These are minor negative issues none of which should be a deal breaker for most people.
If you're looking for something that's a higher quality product and don't mind giving up some of the convenience features look at the Weston 65-0501-W it's one of our highest rated models.
FoodSaver FM5200 Features
Comes with starter kit which includes: (1) 11" x 10' roll of custom cut bags, (3) 1-quart pre-cut bags, (2) 1-gallon pre-cut bags, (3) 1-quart vacuum zipper bags, (2) 1-gallon vacuum zipper bags.
Features FoodSaver's new express bag making process, redcing the number of steps, and reducing waste.
Easy to use vacuum sealer window eliminating the guesswork of where you are sealing the bag, reducing the amount of bag waste by up to 50%.
Has marinate mode enabling you to seal both wet and dry foods.
Has settings for different food modes.
Has pulse mode allowing you to seal soft or delicate foods.
Has built in storage for food bag roll.
Has manual bag sealing giving you more control.
Has accessory hose allowing you more flexibility with sealing other types of food storage containers.
Has dishwasher safe removable drip tray for easy cleanup when sealing liquids or marinades.
FoodSaver FM5200 Videos
FoodSaver FM5200 Compare Models
FoodSaver FM5200 Related Articles
Review Summary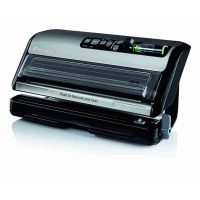 Foodsaver Fm5200 Vacuum Sealer
The FoodSaver FM5200 is our highest rated vacuum sealer, it provides the right combination of the most useful and easy to use features for a great price.
Reviewer:
CulinaryReviewer.com Staff
-
April 21, 2019
Rating:
Read Our Full FoodSaver FM5200 Review
Related Product
Vacuum Sealer Related Pages