FoodSaver is owned by the Jarden Corporation, which is a subsidiary of Newell Rubbermaid. The FoodSaver Company only produces vacuum sealing products such as Vacuum Sealers, Vacuum Seal Bag Rolls, Vacuum Sealer Bags, Vacuum Seal Containers, and Vacuum Seal Canisters. Below you can find links to the directions for FoodSaver Vacuum Sealers. FoodSaver products come with the following warranty: 2 Year. You can contact FoodSaver via FoodSaver Web Support or by telephone at (877)-777-8042.
You can read detailed reviews on these products on the FoodSaver Small Appliance Reviews.
See our complete list of Small Appliance Directions or Small Appliance Brand Information.
Featured FoodSaver Product Review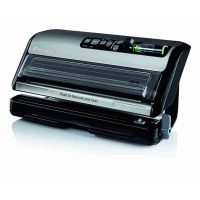 Foodsaver Fm5200 Vacuum Sealer
The FoodSaver FM5200 is our highest rated vacuum sealer, it provides the right combination of the most useful and easy to use features for a great price.
Reviewer:
CulinaryReviewer.com Staff
-
April 6, 2019
Rating:
Read Our Full FoodSaver FM5200 Review
Related Product
Related Pages