Generic Vacuum Sealer Bags or Universal Vacuum Sealer Bags are a special type of bag that is compatible with most different brands of vacuum sealers. When vacuum sealer manufacturers design their vacuum sealers they each use a slightly different temperature to seal the bag, this makes bags from other manufacturers will not work properly in your machine. Third party vendors have created Universal Vacuum Sealer Bags that will seal across a range of temperatures, allowing them to work with different models. Our top choice is OutOfAir 11"x25ft Vacuum Sealer Bag Roll (4 Rolls) they are compatible with most different brands, are high quality, durable and available at great price. FoodSaver brand Vacuum Sealer Bags are universal and will work in most Vacuum Sealers, but they aren't the most economical. FoodSaver Bag rolls cost $0.64 per square foot, compared to $0.29 per square foot for OutOfAir bags, which makes them 55% more expensive. If you're looking for the highest quality Vacuum Sealer Bags look at our Commercial Grade Vacuum Sealer Bag page. You can see all of the reviews on our Vacuum Sealer Bags Reviews page.
Generic Vacuum Sealer Bag Compatability Chart


Vacuum Sealer Bags Reviews
Featured Vacuum Sealer Bags Review
OutOfAir
,
FoodVacBags
,
Avid Armor
,
FoodSaver
,
CaseKix
,
Nutri-Lock
, and
Simple Houseware
Featured Product Review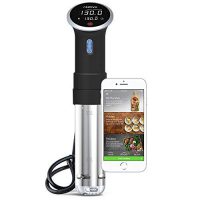 Anova Bluetooth Sous Vide Sous Vide
The Anova Bluetooth Sous Vide Precision Cooker is our higher rated sous vide model, it strikes a perfect balance between quality, features, and pricing. It's the perfect choice for almost everyone.
Reviewer:
CulinaryReviewer.com Staff
-
March 27, 2019
Rating:
Read Our Full Anova Bluetooth Sous Vide Review
Related Product
Vacuum Sealer Related Pages