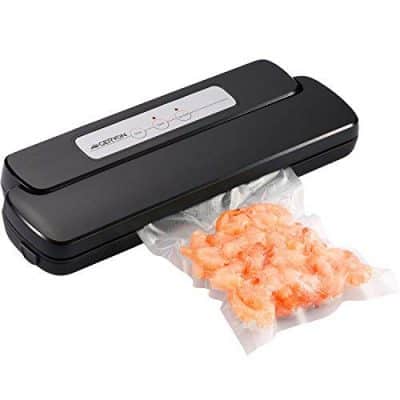 The Geryon E2800 Vacuum Sealer is one of the many compact value priced low quality vacuum sealers that has come on the market as a result of Sous Vide Cooking becoming more popular. We think the NutriChef PKVS18SL is a much better value, but if you need something lower in price look at the Aobosi Vacuum Sealer. The quality is a lot higher for only a little more money.
"
PROS
Compact size for easy storage.
Seals dry foods or frozen liquids.
Easy to read and use control panel.
CONS
This is the lowest rated vacuum sealer we reviewed.
No on-board bag roll storage.
No accessory hose or port.
Geryon E2800 Review
We reviewed 45 different vacuum sealer models, and this was the absolute worst model. The quality was so bad we weren't sure it was going to be working when we finished. Whatever you do please don't buy this model, because you will be buying a replacement a lot sooner than you want to.
Geryon E2800 Features
Comes with starter kit which includes: (10) 1 Quart sized bags, (1) vacuum bag roll 8" x 6ft
Value Priced.
Slimline design.
Seals only dry food or frozen liquids.
Has manual bag sealing giving you more control.
Geryon E2800 Videos
Sorry no videos are available for this model.
Geryon E2800 Compare Models
Review Summary

Geryon E2800 Vacuum Sealer
The Geryon E2800 is a low quality product that we recommend you avoid, instead look at the NutriChef PKVS18SL.
Reviewer:
CulinaryReviewer.com Staff
-
April 21, 2019
Rating:
Read Our Full Geryon E2800 Review
Related Product
Vacuum Sealer Related Pages