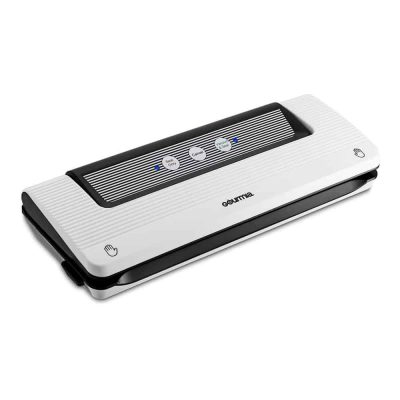 The Gourmia GVS415 is a value priced vacuum sealer that is best suited for who will only need a vacuum sealer occasionally, doesn't need the features offered in other models, or is shopping on a budget. It can seal wet/dry foods, has an easy to use control panel, and comes with a starter kit.
"
PROS
Value priced.
Easy to read and use control panel.
Seals dry foods or frozen liquids.
CONS
Manual bag sealing process.
No on board bag roll storage.
No accessory hose storage.
No pulse mode.
Gourmia GVS415 Review
The Gourmia GVS415 is a value priced Vacuum Sealer from Gourmia. This small lightweight model is perfect for someone who would like to add a vacuum sealer to their kitchen but doesn't need access to countertop model every day. It can accommodate the standard 11" sized bags or rolls that contain both wet and dry food items. To seal the bag, you place it in the opening close the lid and press down until you hear a click, this means you're ready to seal. The controls are on the top of the unit and are easy to use and understand. This model is best suited for someone who doesn't need the features found in higher priced models.
There are some negative points to be aware of with this model. The first is there's no on-board bag roll storage, which is a really nice convenience feature. The second is the quality. This model doesn't feel as durable as some of the other models we reviewed. There's no pulse feature and there's no accessory port, which limits the functionality of this model. If you're looking for something that's a little higher quality and adds some of missing features try the NutriChef PKVS18SL.
Gourmia GVS415 Features
Comes with starter kit which includes: 11" x 10' Heat Seal Roll.
Compact and easy to store.
Seals only dry food or frozen liquids.
Has manual bag sealing giving you more control.
Gourmia GVS415 Videos
Gourmia GVS415 Compare Models
Gourmia GVS415 Related Articles
Review Summary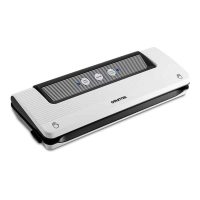 Gourmia Gvs415 Vacuum Sealer
The Gourmia GVS415 is the perfect choice for someone who only needs to vacuum seal things occasionally, it has all the features you really need and saves you money over the more advanced and complicated models.
Reviewer:
CulinaryReviewer.com Staff
-
March 3, 2019
Rating:
Read Our Full Gourmia GVS415 Review
Related Product
Vacuum Sealer Related Pages