The Gourmia GVS445 Vacuum Sealer is a great choice for someone who needs to vacuum seal things infrequently, heavy users should read our full review below to understand this models limitations. Other models to consider would be the FoodSaver FM5200 or NutriChef PKVS18SL.
"
PROS
On board bag roll storage.
Small countertop footprint.
Easy to read and use control panel.
Comes with an accessory hose.
CONS
Can only accomodate small bag rolls.
Manual bag sealing process.
Slightly lower quality.
Gourmia GVS445 Review
The Gourmia GVS445 Vacuum Sealer is a mid level vacuum sealer that gives you some of the convenience features of higher priced models at a value price. This model has limited on board bag roll storage (more about this further down) which is something you normally only find in the higher priced FoodSaver Vacuum Sealers. The controls are arranged in easy to use style, and clearly labeled so it's very easy to use. It can be used to seal both wet and dry foods, and comes with a Normal and Gentile Mode for delicate items like breads. It also has a Marinate Mode specifically for sealing meats. The most unique feature of this model is it's vertical design, we wish this something more manufacturers would incorporate. Lastly, it has manual lock lever for when you're sealing a bag, the push and click style found in similarly priced models is a lot more finicky and less reliable.
There's a lot to like about this model, but there are also a few items that concern us. The first thing we have a problem with is the on-board bag roll storage, it can only hold a tiny roll, usually not more than 10' in length. When you're buying replacement Vacuum Sealer Bag Rolls the most economical sizes are 25' and 50' rolls. The next thing we didn't like was that this model is manually operated, if you're going to be using it frequently this is a feature you're going to miss. Our last issues is probably the most important, compared to other models this didn't feel as durable. It will be fine if you plan on using it infrequently, but for people who plan to use it often, we recommend choosing the FoodSaver FM5200 or NutriChef PKVS18SL instead, as the both seemed to be higher quality.
Gourmia GVS445 Features
Comes with starter kit which includes: (1) 11" x 10' bag roll.
Vertical design takes up a much smaller area on the countertop.
Locking clamps reduces sealing problems.
Easy to read and understand controls.
Has marinate mode enabling you to seal both wet and dry foods.
Has settings for different food modes.
Has pulse mode allowing you to seal soft or delicate foods.
Has built in storage for food bag roll.
Has manual bag sealing giving you more control.
Has accessory port.
Gourmia GVS445 Videos
Gourmia GVS445 Compare Models
Gourmia GVS445 Related Articles
Review Summary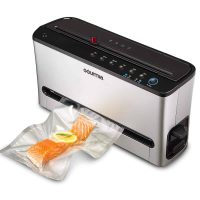 Gourmia Gvs445 Vacuum Sealer
The Gourmia GVS445 Vacuum Sealer has built in bag storage and vertical design that takes up less space on your countertop.
Reviewer:
CulinaryReviewer.com Staff
-
April 12, 2019
Rating:
Read Our Full Gourmia GVS445 Review
Related Product
Vacuum Sealer Related Pages