Gourmia is a small appliance manufacturer with headquarters in Brooklyn, New York. They focus on bringing new techniques and technology to home cooks at value prices. We have reviews for 6 Gourmia products. Their product line includes Air Fryers, Coffee Makers, Electric Frothers, Electric Kettles, Ice Cream Makers, Juicers, Kitchen Gadgets, Kitchen Thermometers, Slow Cookers, Sous Vide Precision Cookers, Vacuum Sealers and Vacuum Sealers Bags.
If you're looking to replace lost or missing directions visit our Gourmia Instruction Manuals page. Gourmia products come with the following warranty: 1 Year.
GourmiaVacuum Sealer Reviews

GourmiaVacuum Sealer Bags Reviews
Gourmia Reusable Vacuum Sealer Bags 3 Quart (15 Count)
$13.99 -
$0.93 Per Bag


Gourmia Reusable Vacuum Sealer Bags 5 Quart (15 Count)
$16.99 -
$1.13 Per Bag

Gourmia Sous Vide Reviews
Featured Gourmia Product Review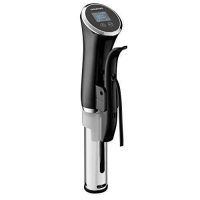 Gourmia Sous Vide Gsv138 Sous Vide
This Gourmia GSV138 Sous Vide is a newer model that we really think is a great choice. It has lots of power, in a high quality housing, and comes at a great price.
Reviewer:
CulinaryReviewer.com Staff
-
March 28, 2020
Rating:
Read Our Full Gourmia Sous Vide GSV138 Review
Related Product
Related Pages