So you want to know How To Choose A Sous Vide Machine? In this article we're going to teach you the most important features to look for, what they do, why they are important, and which models have that feature. We'll also point out any other secondary factors you might want to consider before making your purchase.
To get started here are some questions you need to think about to help you choose the right model:
How Often Will You Be Using A Sous Vide Machine?
Will You Try Extended Cooking Periods Over 12 Hours?
How Important is Build Quality and Durability?
How Much Heating Power Do You Need?
How Much Water Capacity Do You Need?
Is the Temperature Range Important?
How Important is a Simple Control Panel?
Is Clamp Design a Concern?
Do I Need Bluetooth or WiFi Connectivity?
Return to Top
How Often Will You Use A Sous Vide Precision Cooker
One of the most important questions you need to think about is how often do you think you'll be using your Sous Vide? Will you use it every week, once a month or just a few times a year? The more frequently you will use it the higher quality model you will want to choose. If you think you're going to use it frequently you'll also want something with controls that are easy to use. You might also want something with Bluetooth of WiFi Connectivity.
Return to Top
Do You Think You Are Going To Try Any Extended Cooking Projects
One of the things people who are New to Sous Vide Cooking are shocked to discover is you can cook larger cuts of meat for 12 hours or longer. The longer you cook the meat the more tender it becomes, but because it's sealed in a Vacuum Sealer Bag the moisture doesn't escape and the meat doesn't dry out. If you think this is something you might be doing frequently you'll want to choose a better quality model, and consider one with Bluetooth of WiFi Connectivity.
Return to Top
Build Quality And Durability
When Sous Vide Precision Cookers became available to consumers, they were very expensive with prices of $300 or more. As more manufacturers entered the marketplace and sales volume increased the prices came down. This eventually attracted the attention of lower quality manufacturers who sacrificed quality to achieve lower price points. In 2015 the marketplace became flooded with low quality models that broke easily and didn't last past the warranty time. We strongly recommend getting a better quality unit, so you don't end up wasting your money. The highest quality models we reviewed were as follows: Anova Bluetooth Sous Vide,Anova Wifi Sous Vide, ChefSteps Joule Sous Vide, PolyScience Sous Vide Professional SVC-AC1B, and Vesta Imersa Elite Sous Vide. Any of the models in the list below were better than average quality and would be a good choice.
Sous Vide Models With Better Than Average Quality:
Return to Top
How Much Heating Power Do You Need
The heating power of a Sous Vide Precision Cooker is measured in Watts. Most of the models we reviewed were between 800 Watts and 1200 Watts. A higher wattage means it will heat up a volume of water faster, it does not influence the maximum temperature. Having a higher wattage does have a downside, if you start a cooking session that's longer than 8 hours you need to be concerned about water loss through evaporation. Models with a higher wattage will lose more water through evaporation than lower wattage models. Models with higher GPM flow rates will lose water more quickly than those with lower GPM rates. If you plan on doing extended time cooking sessions you want to avoid the high wattage and high GPM combination. If your cooking sessions will usually be less than 8 hours, this is a non issue for you.
Sous Vide Models With 800 - 1000 Watts:
Sous Vide Models With 1000+ Watts:
Return to Top
How Much Water Capacity Do You Need
To use a Sous Vide you're going to need something to hold the water you're heating up. You can use a large pot, but most people find a Rubbermaid or Cambro Food Storage Container much easier to use. The more people you are cooking for the larger container you'll want to use. If you're cooking larger pieces of meat you'll want a larger container. If you're cooking for longer time periods using a larger container makes water loss from evaporation less of an issue. However larger containers are more challenging to store when they're not in use, so it's always a comprimise between capacity and storage. Most of the models we reviewed had a 4-5 Gallon capacity. The highest capacity was the which can heat up to 10 gallons of water.
Sous Vide Models With 3-5 Gallon Capacity:
Sous Vide Models With 6-10 Gallon Capacity:
Return to Top
Is The Temperature Range Important
Many people that are new to Sous Vide Cooking assume that models that have a higher maximum temperature are better, but this really isn't the case. Most sous vide cooking takes place in the 130°-160° range. Recipes that call for temperatures over 180° are rare, recipes with temperatures over 200° are extremely rare. Much more important than the maximum temperature is the temperature accuracy. For example a steak cooked to 132° is going to ste a lot different than a steak cooked to 136°. Most of the consumer level sosu vide models we reviewed were accurate to to within ±1°F. The Commercial Grade Sous Vide Models were all accurate to withing 0.1°F, but most people don't need that level of precision.
Sous Vide Models With 1° Temperature Accuracy:
Return to Top
How Important Is A Simple Control Panel
The control panel on most sous vide models is fairly minimal, and this usually makes them fairly easy to opperate, however there were a few models that were more complicated than the other models. Generally speaking the control panel has two temperature readings, the larger one is the set temperature, the smaller one is the current water temperature. These will be different when you start cooking or if you add water, but usually they are withing 1° of each other. Many models feature a scroll wheel that allows you to adjust the temperature up or down by turning the wheel up or down. Some models feature "+" and "-" buttons to raise or lower the temperature, it's not as convienient as a scroll wheel but it's not too complicated. One model worth noting is the as it has no on-board controls, all of the settings are made through their app. The models listed below all had control panels that we felt were the easiest to use and understand.
Sous Vide Models With Easy to Use Controls:
Return to Top
Is Clamp Design A Concern
The two most common clamps offered are an aligator style clamp and an adjustable clamp. The alligator clamp design is very easy to use, you squeeze the top opening the alligaor "jaws", slide it down over the side of a pot/container and release the pressure. It's very easy to use but it doesn't offer you the ability to slide the unit up or down vertically. The adjustable style clamp has a thumb screw you use to attach it to the side of a pot/container. You then slide the sous vide unit through a bracket and adjust it's height using a second thumb screw. It's not hard but it is an extra step. We preferred the adjustable style clamp because it was more flexible, but if the model you like has an alligator clamp we wouldn't consider it a deal breaker. The only has tension clip on the side, and is mostly held in place by a high powered magnet located in the base of the unit.
Sous Vide Models With Adjustble Bracket Clamp:
Sous Vide Models With Bluetooth of WiFi Connectivity:
Return to Top
Do I Need Bluetooth Or Wifi Connectivity
Having Bluetooth of WiFi Connectivity is something that sounds really cool when you're shopping for a Sous Vide machine, but you'll find you really don't use as much as you think you will. Models with Bluetooth will have to be within 15-20 feet for you to make a connection. The signal usually isn't strong enough to travel from the first floor to the second floor. WiFi Connectivity will allow you to control your unit from anywhere you have an internet connection. Technically you could set up your sous vide at home in the morning and then turn it on from your office at lunch time. This would introduce food safety issues if you didn't store the food below 40°. All of the models we looked at were very dependable maintaining temperature, so checking the temperature in the middle of cooking wasn't something we ever found you needed to be concerned with. We'd consider this a secondary feature that's nice to have, but don't feel it should be a deciding factor for most people.
Featured Sous Vide Review
Featured Product Review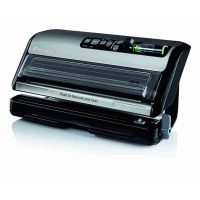 Foodsaver Fm5200 Vacuum Sealer
The FoodSaver FM5200 is our highest rated vacuum sealer, it provides the right combination of the most useful and easy to use features for a great price.
Reviewer:
CulinaryReviewer.com Staff
-
April 24, 2019
Rating:
Read Our Full FoodSaver FM5200 Review
Related Product
Sous Vide Related Pages