So you want to know How to Choose a Vacuum Sealer? In this article, we're going to take a look at some of the key factors you should consider when shopping for a Vacuum Sealer. We're also going to take a look at them most important and most common features on vacuum sealers. We'll explain what they do, why it's important, and which models have that feature.
To get started here are some questions you need to think about to help you choose the right model:
How often will you use a vacuum sealer?
Will you be using it to divide and store bulk purchases?
Do you want a countertop vacuum sealer or one you can easily store away?
Will I be using it with Sous Vide cooking?
Will I be vacuum sealing wet foods?
Will I use a vacuum sealer to marinade meats?
Will I use a vacuum sealer on delicate items like bread or lettuce?
Do I want to vacuum seal canisters or containers?
Built In On-Board Bag Roll Storage
If you're going to be using a vacuum sealer frequently, on-board bag roll storage is a feature you're going to want. These are always countertop models, and they have a chamber or open slot where you place a roll of vacuum sealer bags. The advantage is you always have the bags right on hand and you don't have to go searching for the roll and a pair of scissors to cut the bag, everything you need is available right on your vacuum sealer. Te second advantage is you can custom cut your bags to size, reducing waste and saving you money. Bag rolls are slightly cheaper than precut bags, but the real savings comes from being able to custom cut your bags to size, giving you more uses than you would get using precut sizes. Most rolls come in 25ft lengths, but some rolls like those from Avid Armor come in 50ft lengths, making them wider than usual. If your vacuum sealer has a narrow storage slot, your bag roll may not fit. Some models like the Hamilton Beach 78220, Nesco VS-02, Crenova V60, and Avalon Bay FS300 can only accommodate small rolls of 20ft or less, which is something you defintely want to keep in mind.
Vacuum Sealer Models with Built In Bag Roll Storage:
Countertop Vacuum Sealer vs Small Compact Vacuum Sealer
If you're going to be using your vacuum sealer frequently, you're probably going to want a countertop model. If you're going to use your vacuum sealer to break down bulk purchases into smaller sizes you're probably going to want a countertop model. Countertop models usually have more features, are more durable, and have built in on-board bag roll storage. The downside is they are usually more expensive, and some of them can take up quite a bit of space. Most countertop vacuum sealers fall in this range of sizes: 18"-20" wide, 10"-12" deep, 10"-12" high. Some models like the Gourmia GVS445 and Monoprice Strata have designs that are taller and take up less room on your countertop. Something to consider if countertop space is at a premium for you.
Countertop Vacuum Sealer Models:
Using A Vacuum Sealer for Sous Vide Cooking
You don't need a vacuum sealer for sous vide cooking, but if you do it regularly, it's going to make your life a lot easier. If sous vide cooking is important to you, you're going to want on-board storage, being able to custom cut bags for individual portions makes everything a lot easier. You're also going to want a model that has different food modes, especially a marinade, or wet mode. Almost all vacuum sealers can handle wet and dry foods without a problem. When you're working with a marinade the amount of liquid is much higher, and if your machine can't handle it, you're going to end up with a mess all over your counter, or worse liquid will get inside your vacuum sealer and damage it. All of the FoodSaver Vacuum Sealers have a removable drip tray you can put in the dishwasher to keep things clean and sanitary. If the model you're considering doesn't have this clean it properly after every use to prevent cross-contamination. The FoodSaver FM5200 has a new design that elevates the vacuum sealing mechanism making it more difficult for liquids to cause a problem. The PolyScience 200 Series has flip up legs that acomplish the same thing.
Vacuum Sealer Models with Marinade Function:
Automatic Sealing vs Manual Sealing
One of the more confusing features when you're shopping for a vacuum sealer is automatic sealing. There is no industry standard, so manufacturers often interpret it in a way that benefits them. Some manufacturers consider pushing one button that completes the vacuuming and sealing process as automatic sealing. We disagree with this interpretation. We consider automatic sealing to be the machine sensing when you put a bag in the vacuum sealing slot, grabbing it, clamping down on it, and completing the vacuum sealing process. All WITHOUT you needing to push a single button. This is definitely a convenience feature and not something that most people need to have. If you have arthritis or other ailments that limits the mobility of your hands and your ability to grip things, this is a feature you should try to get. If you buy a lot of bulk items and break them down, into smaller sizes, having automatic sealing is going to save you a lot of time and effort.
Vacuum Sealer Models with Automatic Sealing:
Vacuum Sealer Pulse Sealing Delicate Food Items
If you think you're going to be vacuum sealing delicate foods like bread, lettuce, or potato chips you're going to want a model that has pulse mode. Pulse mode works by slowly sucking the air out in short pulses. You monitor the bag and just before it looks like it's going to crush you manually hit the seal button. It's going to take you a few times before you get it just right. It's a really nice feature to have that increases the types of foods that you can vacuum seal.
Vacuum Sealer Models with Pulse Sealing:
Vacuum Sealing Containers And Canisters
While most vacuum sealing is done using disposable bags, if you're storing a dry foods you can take advantage of reuseale Vacuum Seal Containers and Canisters. These conatainers come with a lid that has a special valve that you connect to handheld accessory tool on your vacuum sealer. Many models come with the hand held accessory.
Vacuum Sealer Models with Handheld Accessory:
If the vacuum sealer you're looking at doesn't come with the handheld accessory but does have an accessory port you can buy the Accessory Hose as an add on.
Vacuum Sealer Models with Accessory Port:
You can learn more about Vacuum Sealers in our Vacuum Sealer Buying Guide, How to Choose A Vacuum Sealer Guide, or Vacuum Sealer FAQ. For help finding the right model be sure to visit our Vacuum Sealer Reviews or Vacuum Sealer Bag Reviews pages.
Featured Vacuum Sealer Review

Featured Product Review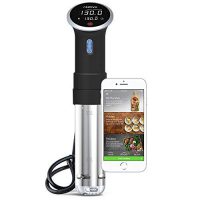 Anova Bluetooth Sous Vide Sous Vide
The Anova Bluetooth Sous Vide Precision Cooker is our higher rated sous vide model, it strikes a perfect balance between quality, features, and pricing. It's the perfect choice for almost everyone.
Reviewer:
CulinaryReviewer.com Staff
-
April 4, 2019
Rating:
Read Our Full Anova Bluetooth Sous Vide Review
Related Product
Vacuum Sealer Related Pages