So you want to know How to Choose a Vacuum Sealer? In this article, we're going to take a look at some of the key factors you should look at to make the best choice. First, you need to think about how often you think you're going to be using a vacuum sealer. Will you be using it a few time a week, maybe you'll only use it one or two days a month, but when you do use it you'll use it a lot dividing up and storing bulk purchases, from places like Costco. If you are going to be using it often you're probably going to want a countertop model that you keep out all of the time. Another feature you're going to want if you're going to use it often is having built-in storage for a roll of bags (all of the FoodSaver Vacuum Sealers have this).
Automatic Sealing vs Manual Sealing
One of the most important features to decide on when choosing a vacuum sealer is do you want automatic sealing, or is manual sealing OK? Vacuum sealers that manually seal require you to put a bag in the unit, close the lid (there's usually a click letting you know it's engaged), and then pressing a button to seal the bottom of the bag. You then have to repeat the operation for the top of the bag. This gives you a lot of control over where the bag is sealed, but it is more work. Models with automatic sealing require you to insert the bag, they automatically clamp down and seal, or vaccum out the air and then seal. Automatic sealing units are a lot easier to use, and if you plan on using your vacuum sealer a lot you're going to want automatic sealing. Older people who have arthritis or don't have a strong grip should choose a model with automatic sealing.
Models with Automatic Sealing:FoodSaver 4440, FoodSaver 4800, FoodSaver V3460.
What Size Vacuum Sealer Will I Need
The next thing you want to think about is how large are the food items you're going to want to vacuum seal. All of the vacuum sealers we reviewed will seal 8" wide bags, and almost all of them will seal 11" wide bags (these are the most common sizes. The FoodSaver 4440, FoodSaver 4800, FoodSaver FM2435, and Weston Pro-2300 will all seal bags up to 15" if you think you'll need larger bags.
Will I Be Vacuum Sealing Wet Foods
Next, you want to think about the types of food you're going to be vacuum sealing. All vacuum sealers can seal dry foods and normally moist fish and meats. If you think you're going to be sealing delicate foods that crush easily like lettuce, potato chips, or bread be sure to get a model that has pulse mode. The FoodSaver 4800 and Crenova VS100S both have pulse mode. Do you think you're going to be vacuum sealing "wet foods"? With the increasing popularity of Sous-Vide cooking, this is becoming a lot more common. Wet foods would include sealing raw uncooked meats in a marinade, in cooked meats in a sauce or gravy. When you vacuum seal wet foods some of the liquid is occasionally sucked out, to prevent this from making a mess look for a model with drip tray. If you're going to be working with marinades and raw meats you really want a removable drip tray that's dishwasher safe. This will stop bacteria from building up, and prevent you from cross contaminating your uncooked foods. All of the FoodSaver Vacuum Sealer have a removable drip tray. The FoodSaver 4440, FoodSaver 4800, and FoodSaver V3460 all have special marinade mode designed specifically for marinading meats.
Can I Vacuum Seal Containers and Canisters
Do you think you're going to want to seal foods in canisters or containers or use standard kitchen Ziptop style bags? Some manufacturers sell specially designed canisters or containers that allow you seal foods in them. The advantage of using these containers is they are easier to store in your cupboard or pantry. To use these canisters and containers you're going to need a vacuum sealer with an accessory port and hose. The Crenova V60, FoodSaver 4440, FoodSaver 4800, FoodSaver FM2435, FoodSaver FM5200, FoodSaver FM5480, Hamilton Beach 78220, NutriChef PKVS18SL, and NutriChef PKVS20STS, all come with an accessory port and hose. The Crenova VS100S and Nesco VS-02 havw an accessory port but doen't come with a hose, you'll need to purchase that separately (FoodSaver Accessory Hose).
You can learn more about Vacuum Sealers in our Vacuum Sealer Buying Guide, How to Choose A Vacuum Sealer Guide, or Vacuum Sealer FAQ.
Vacuum Sealer Pages
Featured Vacuum Sealer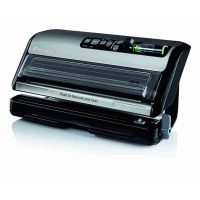 Foodsaver Fm5200 Vacuum Sealer
The FoodSaver FM5200 is our highest rated vacuum sealer, it provides the right combination of the most useful and easy to use features for a great price.
Reviewer:
CulinaryReviewer.com Staff
-
August 30, 2018
Rating:
Read Our Full FoodSaver FM5200 Review
Related Product
Vacuum Sealer Related Pages