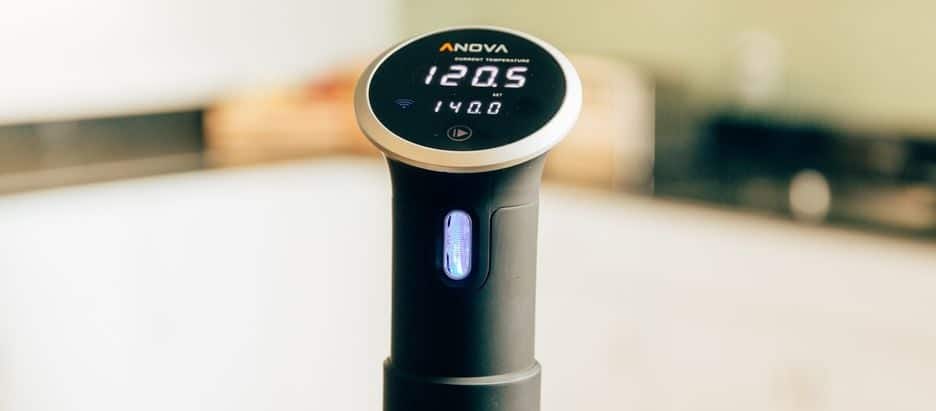 What is Sous Vide Cooking?
Sous-vide, a French term that means "under pressure," is a method of cooking food that shares some similarities with the culinary processes of poaching eggs and the "low-and-slow" approach to traditional barbecue cooking. When following sous vide recipes, the chef immerses food, vacuum-sealed within plastic bags, into vessels that are either filled with water or used for steaming food. The food is cooked at lower than normal temperatures for significantly longer periods of time. When done right, by closely following a sous vide time and temperature chart, the food is evenly cooked via pressure, ensuring that there are no spots that are over or under-cooked. While the initial concept of sous-vide can be traced back to material written by Benjamin Thompson in 1799, that approach involved using air as a heating medium. Sous-vide as we know it today was rediscovered in the 1960s and refined in the 1970s, beginning with a superior means for cooking foie gras.
Getting Started with Sous Vide Cooking
One of the first considerations when looking to try sous-vide cooking is what you intend to cook, with the decision chiefly breaking down between vegetables and meat. As meat can require more time to cook with the sous-vide technique, you should keep that detail in mind when looking over sous vide reviews and choosing a sous vide machine. There are four primary components to sous-vide cookery:
An Immersion Circulator: This device is inserted into your water bath in order to elevate the water's temperature to an exact degree and circulate the water around your vacuum sealed (see our sous vide reviews).
A Water Vessel: While you can stick to using a kitchen pot, a Cambro container offers superior benefits due to the increased heat conduction of its plastic construction.
A Cast Iron Skillet: If you plan on cooking any sort of meat, a hot skillet is the perfect tool for giving it a finishing sear to lock in all of the moisture contained within the meat.
Vacuum Seal Bags: You will want to stick with durable freezer bags or vacuum sealer food bags used with vacuum sealers. Other items worth considering for your sous-vide shopping list include:

Something to keep the bagged food submerged, such as binder clips or a spoon.
Ping pong balls to be placed along the water level of your sous-vide cooker. These will insulate your water vessel, allowing for better retention of heat during long cooking times and also reduce the amount of steam that leaves the vessel.
If you plan on cooking multiple dishes at the same time, a divider may be necessary in order to keep everything submerged without making contact.
Pros & Cons of Sous Vide Cooking
While sous-vide is not a cooking technique for beginners, here are a multitude of the trials and tribulations awaiting those people learning how to cook sous vide:
As long as you get the temperature correct, you will never ruin a steak. Just put the temperature at 130°F, and you will guarantee yourself a steak that is the pinnacle of medium-rarity; the same advice goes for never having another dry piece of chicken, just cook it at 140°F.
You MUST keep your bags submerged at all times. If even the slightest amount of air bubbles remains within the bag, such as from an imperfect seal or as a result of vaporization from long-term cooking, the bag may lift up to the surface of your water vessel.
The delicious flavors that arise from cooking sous-vide comes with an increased cooking time; one hour is usually the barest required minimum.
If you like a thick sear on your steaks, you may want to reconsider sous-vide; the great deal of preserved juices within meat prepared a la sous-vide prevents the sear from thickening as deeply as a traditionally prepared version.
The sous-vide approach requires more equipment than other techniques.
If you are looking to season your meat with spices, oils or garlic, do some research first. While most produce harmless changes, garlic incurs a slight risk of botulism when cooked in an anaerobic environment like sous-vide; fortunately, this risk is safely avoided by cooking at temperatures of at least 130°F. See our Sous Vide Food Safety Guide.
Because the juices have had hours to settle and mix, you do not need to let steaks cooked a la sous-vide rest like you would by grilling it.
Although sous-vide cooking involves temperatures suitable enough for killing bacteria, those times are still lower than the normal cooking times for food. This means that care should be handled when consuming leftovers or when serving pregnant women.
Featured Sous Vide Review
Featured Product Review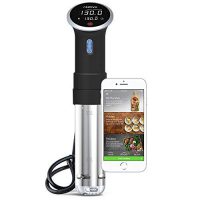 Anova Bluetooth Sous Vide Sous Vide
The Anova Bluetooth Sous Vide Precision Cooker is our higher rated sous vide model, it strikes a perfect balance between quality, features, and pricing. It's the perfect choice for almost everyone.
Reviewer:
CulinaryReviewer.com Staff
-
April 22, 2019
Rating:
Read Our Full Anova Bluetooth Sous Vide Review
Related Product
Sous Vide Related Pages