If you're shopping for a small appliance or gadget but aren't sure where to start our "How To " guides are here to help. These guides can help you learn what to look for, what are the most common features why they are important, and what to look for when comparing items. We're adding new guides all the time so be sure to check back. If you're looking for a "How To" guide you can't find it, drop us an email using our Contact Us form.
How To Guides
Related Pages
Featured Product Review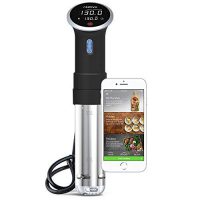 Anova Bluetooth Sous Vide Sous Vide
The Anova Bluetooth Sous Vide Precision Cooker is our higher rated sous vide model, it strikes a perfect balance between quality, features, and pricing. It's the perfect choice for almost everyone.
Reviewer:
CulinaryReviewer.com Staff
-
May 11, 2023
Rating:
Read Our Full Anova Bluetooth Sous Vide Review
Related Pages