Our reviewers looked at 33 different Sous Vide models including 1 from Instant Pot. We reviewed each model for quality, features offered, ease of use, controls, power, flow rate, and connectivity.
Instant Pot Sous Vide Reviews
Instant Pot Sous Vide Ssv800 Sous Vide
The Instant Pot Sous Vide just didn't impress us, the quality was average and the pricing wasn't comparable to similarly equiped models, there are much better choices like the Anova Bluetooth Sous Vide or Wancle Sous Vide SVC001.
Reviewer:
CulinaryReviewer.com Staff
-
March 18, 2019
Rating:
Read Our Full Instant Pot Sous Vide SSV800 Review
Featured Sous Vide Review
Featured Product Review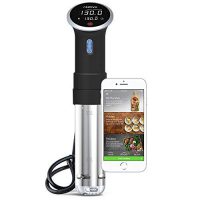 Anova Bluetooth Sous Vide Sous Vide
The Anova Bluetooth Sous Vide Precision Cooker is our higher rated sous vide model, it strikes a perfect balance between quality, features, and pricing. It's the perfect choice for almost everyone.
Reviewer:
CulinaryReviewer.com Staff
-
March 18, 2019
Rating:
Read Our Full Anova Bluetooth Sous Vide Review
Related Product
Sous Vide Related Pages