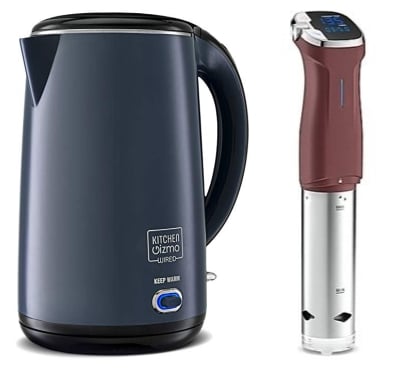 Kitchen Gizmo is a small appliance company that uses innovative design to bring time saving kitchen technology to the home chef. We have reviewed 1 Kitchen Gizmo product. Their product line includes Electric Kettles, Kitchen Gadgets and Sous Vide Precision Cookers. If you're looking to replace lost or missing directions visit our Kitchen Gizmo Directions, Instructions & Manuals page.
Kitchen Gizmo Sous Vide Reviews
Our reviewers looked at 33 different Sous Vide models including 1 from Kitchen Gizmo. We reviewed each model for quality, features offered, ease of use, controls, power, flow rate, and connectivity. You can read a more detailed review by clicking the link in the table below.
Featured Kitchen Gizmo Product Review
Kitchen Gizmo Sous Vide Kg-Sv1 Sous Vide
The Kitchen Gizmo Sous Vide KG-SV1 combines quality, ease of use, and most popular features at a very reasonable price, making it a good choice for most people.
Reviewer:
CulinaryReviewer.com Staff
-
April 1, 2019
Rating:
Read Our Full Kitchen Gizmo Sous Vide KG-SV1 Review
Related Product
Related Pages