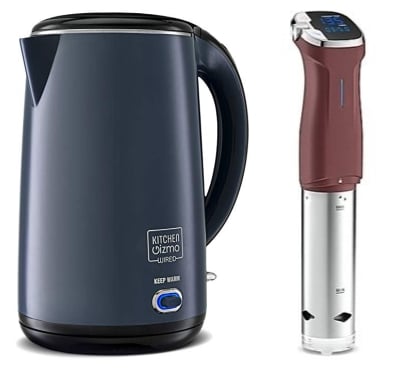 Kitchen Gizmo is a small appliance company that uses innovative design to bring time saving kitchen technology to the home chef. We have reviewed 1 Kitchen Gizmo product. Their product line includes Electric Kettles, Kitchen Gadgets and Sous Vide.
Kitchen Gizmo Sous Vide Reviews
Our reviewers looked at 33 different Sous Vide models including 1 from Kitchen Gizmo. We reviewed each model for quality, features offered, ease of use, controls, power, flow rate, and connectivity. You can read a more detailed review by clicking the link in the table below.
Featured Kitchen Gizmo Product Review
Kitchen Gizmo Sous Vide Kg-Sv1 Sous Vide
The Kitchen Gizmo Sous Vide KG-SV1 combines quality, ease of use, and most popular features at a very reasonable price, making it a good choice for most people.
Reviewer:
CulinaryReviewer.com Staff
-
February 27, 2019
Rating:
Read Our Full Kitchen Gizmo Sous Vide KG-SV1 Review
Related Product
Related Pages