Koios is an an international company with an office in California, they specialize in value priced products for the home and kitchen. We have reviewed 2 Koios products. Their product line includes Blenders, Immersion Blenders, Robot Vacuum Cleaners, Vacuum Sealers and Vacuum Sealerss. If you're looking to replace lost or missing directions visit our Koios Directions, Instructions & Manuals page.
KoiosVacuum Sealer Reviews

KoiosVacuum Sealer Bags Reviews
Koios does not make it's own line of Vacuum Sealer Bags. Instead we recommended our top Vacuum Sealer Bag OutOfAir is a Universal Vacuum Sealer Bag is compatible with most vacuum sealers, including MonoPrice, is a higher quality and is available for a better price. You can see other compatible bags on our Generic Vacuum Sealer Bag Reviews page.
Featured Product Review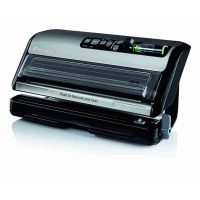 Foodsaver Fm5200 Vacuum Sealer
The FoodSaver FM5200 is our highest rated vacuum sealer, it provides the right combination of the most useful and easy to use features for a great price.
Reviewer:
CulinaryReviewer.com Staff
-
August 15, 2023
Rating:
Read Our Full FoodSaver FM5200 Review
Related Product
Related Pages