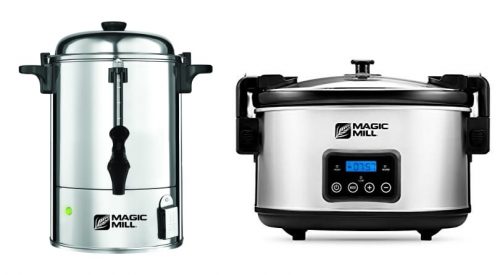 Magic Mill is an American culinary food product company best known for their restaurant quality commercial grade appliances. We have reviewed 1 Magic Mill product. If you're looking to replace lost or missing directions visit our Magic Mill Directions, Instructions & Manuals page.
Magic Mill Sous Vide Reviews
Our reviewers looked at 33 different Sous Vide models including 1 from Magic Mill. We reviewed each model for quality, features offered, ease of use, controls, power, flow rate, and connectivity. You can read a more detailed review by clicking the link in the table below.
Featured Magic Mill Product Review
Magic Mill Souvia Sous Vide Sous Vide
The Magic Mill Souvia Sous Vide is a uniquely designed model that looks very attractive, however it has quality issues that we cant ignore and think most people should skip this model.
Reviewer:
CulinaryReviewer.com Staff
-
April 12, 2019
Rating:
Read Our Full Magic Mill Souvia Sous Vide Review
Related Product
Related Pages