You can find directions for many of the Nesco products we have reviewed in the table below.You can contact Nesco via Nesco Web Support or by telephone at (920)-793-1368.
Their product line includes Blenders, Coffee Makers, Countertop Burners, Deep Fryers, Dehydrators, Electric Kettles, Ovens, Pressure Cookers, Slow Cookers, Toasters and Vacuum Sealers. Nesco products come with the following warranty: 1 Year.
You can read detailed reviews on these products on the Nesco Small Appliance Reviews.
See our complete list of Small Appliance Directions or Small Appliance Brand Information.
Featured Nesco Product Review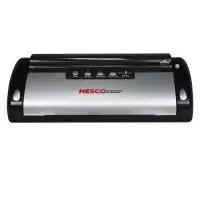 Nesco Vs-02 Vacuum Sealer
The Nesco VS-02 is a budget priced model that should really only be purchased by people who are going to use it very infrequently. We have a hard time looking past the low quality construction and materials and feel the NutriChef PKVS18SL is much better choice for a very similar price.
Reviewer:
CulinaryReviewer.com Staff
-
January 1, 2019
Rating:
Read Our Full Nesco VS-02 Review
Related Product
Related Pages