The Nesco company was founded in 1932 in Milwaukee Wisconsin when it's founders were experimenting with electricity and invented a portable roaster oven. From their expanded into different small appliances, cooking products and farm accessories. We have reviews for 1 Nesco products. Their product line includes: Blenders, Coffee Makers, Countertop Burners, Deep Fryers, Dehydrators, Electric Kettles, Ovens, Pressure Cookers, Slow Cookers, Toasters, and Vacuum Sealers. We also have a library of Nesco Instruction Manuals.
Nesco Vacuum Sealer Reviews

Nesco Products and Categories
Featured Nesco Product Review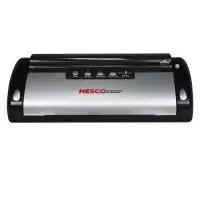 Nesco Vs-02 Vacuum Sealer
The Nesco VS-02 is a budget priced model that should really only be purchased by people who are going to use it very infrequently. We have a hard time looking past the low quality construction and materials and feel the NutriChef PKVS18SL is much better choice for a very similar price.
Reviewer:
CulinaryReviewer.com Staff
-
August 30, 2018
Rating:
Read Our Full Nesco VS-02 Review
Related Product
Related Pages