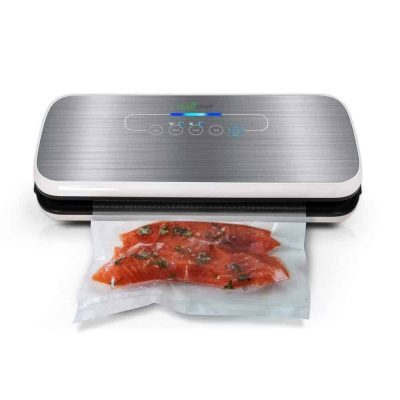 The NutriChef Vacuum Sealer is our number 2 recommendation. It's one of our top rated models and is perfect for people who don't need all of the features of higher priced models, but are still looking for a quality product that's built to last. This is a manually operated model that can vacuum seal wet/dry foods and comes with an accessory hose. Its small size makes it easy to store and use when you need it. This model was much higher quality than similarly priced models.
"
PROS
Extremely easy to use.
Seals wet/dry foods.
Comes with an accessory hose.
Great budget price.
CONS
No on board bag roll storage.
Accessory hose is very short.
Entirely manual bag sealing process.
NutriChef PKVS18SL Review
The NutriChef Vacuum Sealer is the perfect choice for someone who isn't going to do enough vacuum sealing to need model they leave on the counter all of the time, or someone who is shopping on budget and looking for a great value. The thing that makes the NutriChef stand out is how easy it is to use, you just place the bag in, clamp the lid, and press either seal or vacuum & seal. It's a lot simpler to use than some of the other more advanced models. It can seal both wet and dry items but, there is no pulse control for delicate items. It does come with an accessory hose. This model is a lot quieter than the FoodSaver models. Compared to other vacuum sealers under $100 this model had the highest quality and durability, which is why it's one of our favorites.
The biggest downside to this model is there is no built-in storage for a roll of bags. If you're going to be using it often, that's really a feature you're going to want to have. If you aren't going to be using it often then don't count it as a negative. Our second complaint is the accessory hose, it's short, really short, which makes it awkward to use. The last negative aspect is operating this model is a completely manual operation. Once you've worked with models that automatically grab, vacuum, and seal you miss not having that feature. These are minor complaints about convenience features. We think this model is a top choice and should definitely be on the short list of models you're considering.
NutriChef PKVS18SL Features
Comes with starter kit which includes: (5) Medium Vacuum Bags, (1) Extra Long Vacuum Bag Roll.
Compact and easy to store.
Has marinate mode enabling you to seal both wet and dry foods.
Has settings for different food modes.
Has pulse mode allowing you to seal soft or delicate foods.
Has manual bag sealing giving you more control.
Has accessory hose allowing you more flexibility with sealing other types of food storage containers.
NutriChef PKVS18SL Videos
NutriChef PKVS18SL Compare Models
NutriChef PKVS18SL Related Articles
Review Summary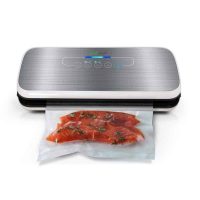 Nutrichef Pkvs18Sl Vacuum Sealer
For people who will only be using a Vacuum Sealer occasionally the NutriChef PKVS18SL is a great choice, it gives you only the features you need for a value price.
Reviewer:
CulinaryReviewer.com Staff
-
April 2, 2019
Rating:
Read Our Full NutriChef PKVS18SL Review
Related Product
Vacuum Sealer Related Pages