NutriChef is a small appliance manufacturer selling products across the globe. Their product line includes Air Fryers, Countertop Burners, Electric Griddles, Electric Kettles, Grill Thermometers, Kitchen Gadgets, Kitchen Thermometers, Slow Cookers, Sous Vide Precision Cookers and Vacuum Sealers. We have reviews for 3 different Nutrichef products. We also have a library of NutriChef Instruction Manuals. Nutrichef products come with the following warranty: 1 Year.
NutriChefVacuum Sealer Reviews

See our complete NutriChef Vacuum Sealer Reviews.
NutriChefVacuum Sealer Bags Reviews
NutriChef Sous Vide Reviews
Featured NutriChef Product Review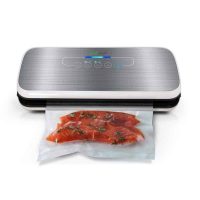 Nutrichef Pkvs18Sl Vacuum Sealer
For people who will only be using a Vacuum Sealer occasionally the NutriChef PKVS18SL is a great choice, it gives you only the features you need for a value price.
Reviewer:
CulinaryReviewer.com Staff
-
April 5, 2019
Rating:
Read Our Full NutriChef PKVS18SL Review
Related Product
Related Pages