Our NutriChef Vacuum Sealer Reviews can help you quickly and easily find the right vacuum sealer to fit your needs. We liked the NutriChef PKVS18SL out of all of the models we looked at, what impressed us the most was high quality at a great price. You quickly compare the different models using our Comparison Table and follow the links to read more detailed reviews. We also have a separate page for NutriChef Instruction Manuals.
NutriChefVacuum Sealer Reviews


NutriChefVacuum Sealer Bags Reviews
Our reviews show the best NutriChef Vacuum Sealer is the NutriChef PKVS18SL it offers the best combination of features, ease of use, and price. The quality of this model was much higher than the other models we reviewed. One of the things we liked about all of the models from NutriChef was the ease of operation, the controls were easy to understand, and an LED light activated when it was performing that function. Additionally they all have an accessory hose so you can use them with containers or canisters.
NutriChef Vacuum Sealer Comparison Table


All of the NutriChef Vacuum Sealers are manually activted counter top models, they are best suited for people who will use them infrequently. Customers who will use a frequently should consider a model with automatic sealing like a FoodSaver Vacuum Sealer or a Professional Grade Vacuum Sealer like a model from Weston. All NutriChef models can seal wet and dry foods, and have different food settings.They all come with a 1 year manufacturers warranty. Adding a NutriChef Vacuum Sealer to your kitchen is a great way to start making your food last longer and introduce sous vide cooking to your kitchen.
NutriChef Vacuum Sealer FAQ
Can you use any size bags with the NutriChef Vacuum Sealer
Yes you can use either pre-cut quart bags or bags from a roll. You should always use bags from the same manufacturer as different vacuum sealers seal at different temperatures, and if your bag doesn't match your machine it won't seal properly. Here's a link to
What's the widest bag the NutriChef Vacuum Sealer can accommodate
The sealing bar is 11" wide and can accomodate the standard 8" and 11" wide bags or rolls.
Can I use the NutriChef Vacuum Sealer to seal bags without vacuuming them
Yes there is a seal only button located on the top of the unit.
Can you use the NutriChef Vacuum Sealer to seal soups
Yes you can use it to seal soups, the best way to do this to freeze the soup first, then place it in a bag and seal it.
You can learn more about Vacuum Sealers in our Vacuum Sealer Buying Guide, How to Choose A Vacuum Sealer Guide, or Vacuum Sealer FAQ. For help finding the right model be sure to visit our Vacuum Sealer Reviews or Vacuum Sealer Bag Reviews pages.
Featured Vacuum Sealer Review


Featured Product Review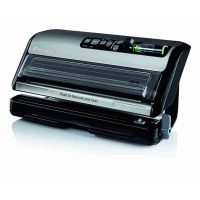 Foodsaver Fm5200 Vacuum Sealer
The FoodSaver FM5200 is our highest rated vacuum sealer, it provides the right combination of the most useful and easy to use features for a great price.
Reviewer:
CulinaryReviewer.com Staff
-
November 8, 2023
Rating:
Read Our Full FoodSaver FM5200 Review
Related Product
Vacuum Sealer Related Links