You can find directions for many of the Rosky products we have reviewed in the table below.
Their product line includes Sous Vide Precision Cookers and Vacuum Sealers.
Sorry we don't have any instruction Manuals on file for this brand.
Featured Rosky Product Review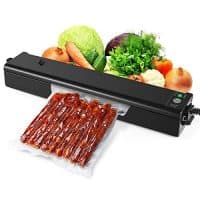 Rosky Vacuum Sealer Vacuum Sealer
The Rosky Vacuum Sealer is a low quality product that we recommend you avoid, instead look at the NutriChef PKVS18SL.
Reviewer:
CulinaryReviewer.com Staff
-
April 2, 2019
Rating:
Read Our Full Rosky Vacuum Sealer Review
Related Product
Related Pages