The Rosky Vacuum Sealer is a good choice for a very small segment of consumers, we recommend most people avoid this model and go with the NutriChef PKVS18SL which is a much better value and a lot more useful. See our full review below.
"
PROS
Compact size for easy storage.
Seals dry foods or frozen liquids.
Easy to read and use control panel.
CONS
Quality is below average.
No on-board bag roll storage.
No accessory hose or port.
No pulse, marinate, or different food modes..
Rosky Vacuum Sealer Review
The Rosky Vacuum Sealer is good for people who need an occasional vacuum sealer, AND WILL ONLY BE SEALING DRY FOODS. If you're going to be doing, any Sous Vide Cooking do not by this model, you will regret it down the road. This model is the most manual vacuum sealer we reviewed, it has extras steps found in no other models. You place a bag across the sealer bar they way you do for most vacuum sealers, then on the side it has a manual clamp you need to lock in place before you press the seal button. Once it's done sealing, you need to open a bleed valve so you can unlock the unit. We reviewed 45 different vacuum sealers and this was the only one with a manual release valve. This model has no food settings, no marinate mode, no pulse mode, and no accessory port or hose. It is very cheap, but it doesn't do a lot. If you have very specific needs that this model does, consider it, but 99% of the people should pass this by, it's a purchase they'll end up regretting.
Rosky Vacuum Sealer Features
Comes with starter kit which includes: (10) Quart-Size Vacuum Bags.
Value Priced.
Slimline design.
Seals only dry food or frozen liquids.
Has manual bag sealing giving you more control.
Rosky Vacuum Sealer Videos
Sorry no videos are available for this model.
Rosky Vacuum Sealer Compare Models
Review Summary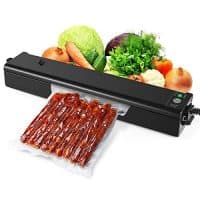 Rosky Vacuum Sealer Vacuum Sealer
The Rosky Vacuum Sealer is a low quality product that we recommend you avoid, instead look at the NutriChef PKVS18SL .
Reviewer:
CulinaryReviewer.com Staff
-
August 27, 2023
Rating:
Read Our Full Rosky Vacuum Sealer Review
Related Product
Vacuum Sealer Related Links