Our reviewers looked at 33 different Sous Vide models including 1 from Sansaire. We reviewed each model for quality, features offered, ease of use, controls, power, flow rate, and connectivity.
Sansaire Sous Vide Reviews
Use the table below to compare Sansaire Sous Vide Reviews, you can click the product at the top column to read a more detailed review.
Sansaire Sous Vide Comparison Table

Sansaire Sous Vide Sa15 Sous Vide
The Sansaire Sous Vide is a high quality model that has proven to be a favorite for many years. It's unique design enhances it's usability giving you features you won't find in other models. All of this doesn't come cheaply though.
Reviewer:
CulinaryReviewer.com Staff
-
March 24, 2019
Rating:
Read Our Full Sansaire Sous Vide SA15 Review
Featured Sous Vide Review
Featured Product Review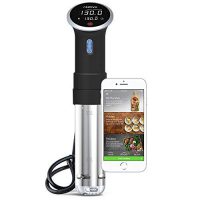 Anova Bluetooth Sous Vide Sous Vide
The Anova Bluetooth Sous Vide Precision Cooker is our higher rated sous vide model, it strikes a perfect balance between quality, features, and pricing. It's the perfect choice for almost everyone.
Reviewer:
CulinaryReviewer.com Staff
-
March 24, 2019
Rating:
Read Our Full Anova Bluetooth Sous Vide Review
Related Product
Sous Vide Related Pages