Our reviewers looked at 45 different vacuum sealers, including 1 from Seal-A-Meal. We reviewed each vacuum sealer for features offered, ease of use, quality, and price. We feel that the Seal-A-Meal Vacuum Sealer is best suited for someone who will only be using it occasionally. Customers that are looking for something a little higher quality should consider the NutriChef PKVS18SL as it represents a much better value for your money. You can compare them using the Comparison Table below which links to our full more detailed reviews. If you are looking to replace a lost set of directions visit our Seal-A-Meal Instructions page.
Seal-A-MealVacuum Sealer Reviews


Seal-A-MealVacuum Sealer Bags Reviews
We reviewed this item and felt it's best suited to someone who is going to be using a vacuum sealer occasionally. If you are going to be vacuum sealing regularly for something like sous vide cooking you should probably look at a higher quality model like the NutriChef PKVS18SL.
Seal-A-Meal Vacuum Sealer Comparison Table


The Seal-A-Meal Vacuum sealer is a counter top model that is manually sealed. It does not have any on-board bag storage or cutters. This model comes with a 1 year warranty.
Seal-A-Meal Vacuum Sealers FAQ
Does the Seal-A-Meal Vacuum Sealer comes with bags
It comes with four bags, which we really don't feel is enough to call it a starter kit, you are going to need to order your own Vacuum Sealer Bags.
Does the Seal-A-Meal Vacuum Sealer have a bag cutter
No there is no bag cutter and no on-board bag storage with this model.
Can this vacuum sealer seal baked goods
This model doesn't come with a pulse mode, so if you use delicate items like baked goods you are going to have to manually hit the seal button before the food crushes.
Can I use any brand of vacuum sealer bags
Different manufacturers have their vacuum sealers seal at different temperatures, so you should always use bags the vendor says are compatible.
You can learn more about Vacuum Sealers in our Vacuum Sealer Buying Guide, How to Choose A Vacuum Sealer Guide, or Vacuum Sealer FAQ. For help finding the right model be sure to visit our Vacuum Sealer Reviews or Vacuum Sealer Bag Reviews pages.
Featured Vacuum Sealer Review


Featured Product Review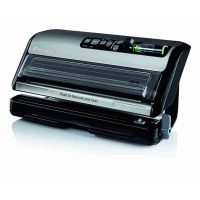 Foodsaver Fm5200 Vacuum Sealer
The FoodSaver FM5200 is our highest rated vacuum sealer, it provides the right combination of the most useful and easy to use features for a great price.
Reviewer:
CulinaryReviewer.com Staff
-
September 11, 2023
Rating:
Read Our Full FoodSaver FM5200 Review
Related Product
Vacuum Sealer Related Links