Simple Houseware Vacuum Sealer Bags were one of our lower rated vacuum sealer bags scoring 3.75 out of 5 stars. These bags were lower than average from a quality perspective with thickness of 4 Mil (front) 9 Mil (back). The SimpleHouseBags bags were not as economical as other bags with an average cost of $0.34 per bag for 1 quart sized bags, and $0.43 per square foot for 11" bag rolls. Simple Houseware bags were much less economical than our top two rated vacuum sealer bags OutOfAir and Avid Armor, they were also lower in terms of quality and thickness. There's nothing wrong with this brand, you're just paying more and getting less, OutOfAir is higher quality is thicker but costs 33% less. These bags are Universal Vacuum Sealer Bags and are compatible with most brands of vacuum sealers.
Simple Houseware Vacuum Sealer Bag Compatability Chart

Vacuum Sealer Bags Reviews
Featured Vacuum Sealer Bags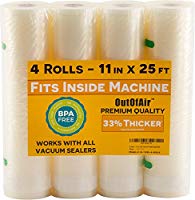 OutOfAir 11"x25ft Vacuum Sealer Bag Roll (4 Rolls)
OutOfAir Vacuum Sealer Bags and Rolls were our highest rated vacuum sealer bags. They are universal and work in most vacuum sealing machines, are high quality, and available at a great price.
Reviewer:
CulinaryReviewer.com Staff
-
March 7, 2019
Rating:
Read Our Full Review
Related Product
Vacuum Sealer Related Pages