Our team of Kitchen Experts has reviewed over 140 different products from 61 different brands. Use the list below to find the brand you're looking for, or if you prefer Browse By Product Category.
Small Appliances by Brand
Featured Product Review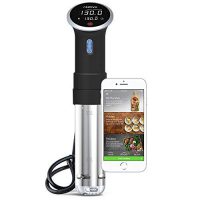 Anova Bluetooth Sous Vide Sous Vide
The Anova Bluetooth Sous Vide Precision Cooker is our higher rated sous vide model, it strikes a perfect balance between quality, features, and pricing. It's the perfect choice for almost everyone.
Reviewer:
CulinaryReviewer.com Staff
-
May 1, 2023
Rating:
Read Our Full Anova Bluetooth Sous Vide Review
Related Pages