You can find directions for many of the Sous Vide Supreme products we have reviewed in the table below.You can contact Sous Vide Supreme via Sous Vide Supreme Web Support or by telephone at (877)-787-6836.
Sous Vide Supreme products come with the following warranty: 1 Year.
You can read detailed reviews on these products on the Sous Vide Supreme Small Appliance Reviews.
See our complete list of Small Appliance Directions or Small Appliance Brand Information.
Featured Sous Vide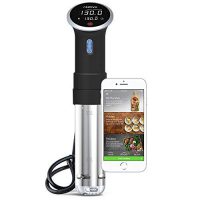 Anova Bluetooth Sous Vide Sous Vide
The Anova Bluetooth Sous Vide Precision Cooker is our higher rated sous vide model, it strikes a perfect balance between quality, features, and pricing. It's the perfect choice for almost everyone.
Reviewer:
CulinaryReviewer.com Staff
-
March 14, 2019
Rating:
Read Our Full Anova Bluetooth Sous Vide Review
Related Product
Sous Vide Related Pages