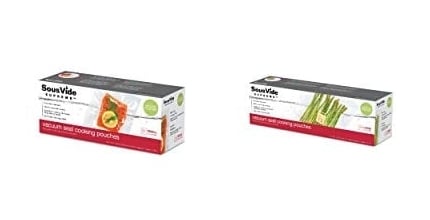 Sous Vide Supreme Vacuum Sealer bags are vendor level bags that only work in Sous Vide Supreme Vacuum Sealers, these are not Universal Vacuum Sealer Bags. They are average in quality, and they are higher in price. We recommend OutOfAir or Avid Armor vacuum sealer bags instead, as they are much more reasonably priced and are Generic Vacuum Sealer Bags that will work in most brands of Vacuum Sealers.
Sous Vide SupremeVacuum Sealer Bags Reviews


Featured Sous Vide Supreme Product Review

Sous Vide Supreme Vs3000 Vacuum Sealer
The Sous Video Supreme is an average quality vacuum sealer, that isn't a great value compared to other similarly equipped models.
Reviewer:
CulinaryReviewer.com Staff
-
January 27, 2019
Rating:
Read Our Full Sous Vide Supreme VS3000 Review
Related Product
Vacuum Sealer Related Pages