Vacuum Sealer Accessories can extend the usefulness of your vacuum sealer by allowing you to use it with a wider assortment of storage containers. The most useful accessory is the handheld accessory, this is built in to most of the better quality FoodSaver Vacuum Sealers. If your vacuum sealer didn't come with an accessory hose you may be able to add one you just need to check if your model has an accessory port, it's usually located on the back of the machine. The accessory port is a standard size across different brands, so you don't need to worry about whether it's compatible or not. You can find other items to use with your vacuum sealer on our Vacuum Sealer Containers page.
Vacuum Sealer Accessories
You can learn more about Vacuum Sealers in our Vacuum Sealer Buying Guide, How to Choose A Vacuum Sealer Guide, or Vacuum Sealer FAQ. For help finding the right model be sure to visit our Vacuum Sealer Reviews or Vacuum Sealer Bag Reviews pages.
Related Pages
Featured Vacuum Sealer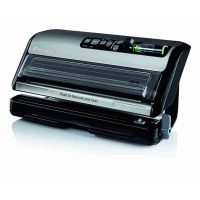 Foodsaver Fm5200 Vacuum Sealer
The FoodSaver FM5200 is our highest rated vacuum sealer, it provides the right combination of the most useful and easy to use features for a great price.
Reviewer:
CulinaryReviewer.com Staff
-
January 24, 2019
Rating:
Read Our Full FoodSaver FM5200 Review
Related Product
Vacuum Sealer Related Pages