Our Ultimate Vacuum Sealer Buying Guide can help you learn everything you need to know before you purchase your own Vacuum Sealer. A vacuum sealer takes a food item that has been placed inside a special food sealer bag and sucks all of the excess air out of the bag. By removing the air the food lasts longer and doesn't decay as quickly. If you vacuum seal meats before you freeze them, you cut down the moisture in the package and reduce the likely hood of freezer burn damaging your meat. Using a vacuum sealer will save you money, and keep your food tasting fresher longer. Another key use of vacuum sealing is Sous Vide Cooking.
What Types of Foods Can You Vacuum Seal
You can vacuum seal almost any type of food with a few exceptions, which we'll go over. Vacuum sealing works well on any type of fish, beef, chicken or other meats. You can vacuum seal almost any type of fruits or vegetables, with the exception of cruciferous vegetables. Cruciferous vegetables include arugula, bok choy, broccoli, brussel sprouts, cabbage, cauliflower, collard greens, horseradish, kale, mustard greens, radish, rutabaga, turnip, and watercress. You should also avoid vacuum sealing mushrooms, garlic, and soft cheeses like blue cheeses. You have to be careful when sealing delicate foods such as lettuce, potato chips, and soft breads, as the vacuum sealer can easily crush those items.
How Do You Use a Vacuum Sealer
In most cases, you're going to use a precut bag or a bag that you cut from a roll to package and seal your foods. Using a precut bag is very similar to using a standard Ziptop bag, you choose a bag and then put your food item in it. To use a roll you're going to take the roll, pull out a large enough piece to hold your food item and then cut the roll to size. This can be a cumbersome two-handed process, so many people look for a vacuum sealer that comes with on-board storage for a vacuum sealer bag roll and has a cutter built into the unit. (See our Vacuum Sealer Bag Reviews) Once the bag is cut, you'll place one end of the bag into the sealer and activate the sealing process. In most cases, this is a single button push operation. More advanced models have an automatic sealer, you insert the bag, the machine senses it grabs it and pulls it in and seals it automatically. Some models have clips or clamps you have to engage before you can start the sealing process. Once one end of your bag is sealed you'll put your food item in and take the open end and place it back in the machine, and activate the vacuum and sealing process. Most food sealers have a single button activation, but again some have clips or clamps you need to engage first. The vacuum and seal button can sometimes be a different button then the seal button because it activates a small motor that pulls all of the excess air out of the bag before it seals it. Some models will have different modes for different types of foods. Some models will also have wet and dry modes.
Vacuum Sealers Wet Mode and Marinade Mode
In some cases you are going to want to vacuum seal your food in a liquid, this is very common amongst people who have a Sous Vide immersion circulator. You have food that you've prepared that's in a sauce, gravy or marnade you place it in a bag that's sealed on one end, and then pour the liquid in. You will then use a wet sealing mode to store your food in the liquid while it slowly cooks. Not all food sealers have this capability, so look for it if you think it's something you're going to use. Another option is to vacuum seal meat in a marinade to cook at a later date. Some models have a special marinade mode. If the model you're looking at only has a wet mode, this will still work just not as well. If you're interested in vacuum sealing wet foods make sure you choose a model with a drip guard or tray to catch excess liquid, so it doesn't spill all over the counter. A removable dishwasher safe drip guard is even better as it will prevent bacteria from building up and cross-contaminating your food items. See our Sous Vide Food Safety Guide.
Vacuum Sealing Delicate Foods and Pulse Mode
If you're going to be vacuum sealing delicate foods like lettuce leaves, potato chips, and breads, you're going to want a model with pulse mode. When you press the pulse mode button the vacuum sealer motor slowly pulses, drawing the air out in tiny increments so you can monitor its progress. You want to remove as much air as possible, but not enough that you crush the food causing it to break into tiny, little pieces.
Vacuum Sealing Canisters and Containers
Many models come with an accessory port and accessory hose that allow you to vacuum seal specially designed canisters and containers. The vacuum sealing port is fairly standard, but check if you're unsure. The standard size containers and canisters make it easy for you to buy items in bulk like Costco or BJ's, and then divide them up into smaller containers that you can keep fresh for longer periods of time (See our Vacuum Sealer Accessory Reviews).
What Type of Bags Do I Need
Most manufacturers recommend that you buy their branded bags. The temperature that each machine seals at is slightly different, so if you use different bags there's a chance it won't seal properly, or worse it will melt possibly damaging your machine. However, you can use Generic Vacuum Sealer Bags also known as Universal Vacuum Sealer Bags, that will work in most models of Vacuum Sealers. If your vacuum sealer has and accessory hose and head you can usually use that to suck the air out of your Ziptop bag. Just be careful and don't seal the bag in the machine as the temperature may cause problems.
Vacuum Sealer Reviews
Hopefully, this guide has helped educate you and answer many of the questions you had. Take a look at our chart below to see our top vacuum sealer reviews, and learn more information. Our top rated vacuum sealer is the FoodSaver FM5200.

See our complete list of 45 different Vacuum Sealer Reviews, for brand reviews see our FoodSaver Vacuum Sealer Reviews, Nutrichef Vacuum Sealer, Gourmia Vacuum Sealer Reviews or Weston Vacuum Sealer Reviews.
You can learn more about Vacuum Sealers in our Vacuum Sealer Buying Guide, How to Choose A Vacuum Sealer Guide, or Vacuum Sealer FAQ. For help finding the right model be sure to visit our Vacuum Sealer Reviews or Vacuum Sealer Bag Reviews pages.
Featured Vacuum Sealer Review

Featured Product Review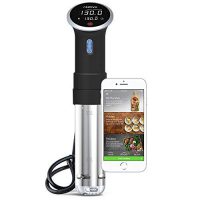 Anova Bluetooth Sous Vide Sous Vide
The Anova Bluetooth Sous Vide Precision Cooker is our higher rated sous vide model, it strikes a perfect balance between quality, features, and pricing. It's the perfect choice for almost everyone.
Reviewer:
CulinaryReviewer.com Staff
-
April 2, 2019
Rating:
Read Our Full Anova Bluetooth Sous Vide Review
Related Product
Vacuum Sealer Related Pages