If you're interested in buying Vacuum Seal Containers or Canisters, but have questions before you make a purchase you've come to the right place. Our staff has compiled a collection of the most commonly asked questions and answers to help you feel more confident in your purchase. If you have a question that's not listed below, feel free to Contact Us. You can see all of our Vacuum Sealer Container Reviews.
You may also find our Vacuum Sealer Bags Frequently Asked Questions or Vacuum Sealer Bags Buying Guide helpful.
Vacuum Sealer Container FAQ

What Types of Foods Can I Use in Vacuum Seal Containers?
You can use the same types of foods you would use in vacuum sealer bags. As with vacuum sealer bags you want to avoid cruciferous vegetables. Cruciferous vegetables include arugula, bok choy, broccoli, brussels sprouts, cabbage, cauliflower, collard greens, horseradish, kale, mustard greens, radish, rutabaga, turnip, and watercress. Cruciferous vegetables emit a gas as they ripen and this will cause the food in the container to spoil.
Can I Use Vacuum Sealer Containers to Marinade Meats?
If you are marinading meats you want to use a special type of container known as a marinator, the interior surface is smooth making it harder for microbial bacteria to adhere to the surface. Always thoroughly wash a marinator after each use, or send it through the dishwasher to prevent any cross contamination.
Can I Use Vacuum Sealer Containers With Coffee?
There are special canisters designed for Coffee, using them will insure maximum freshness.
Can I Vacuum Seal Flour?
Yes you can vacuum seal flour and other powdery food items, however you're going to have to take an extra step. Place the food in a plastic bag or securely cover with plastic wrap. The powdery substance can become airborne during the vacuum sealing process and prevent a secure seal from forming, using a plastic bag will prevent this from happening.
Do I Still Have to Store Foods in The Refrigerator or Freezer if They Are Vacuum Sealed ?
Yes a Vacuum Sealer only prevent food from spoiling due to air exposure, if foods need to be kept refrigerated or frozen, you will need to put the container in the refrigerator or freezer to prevent them from spoiling.
Are Vacuum Seal Containers Microwave Safe?
Always refer to the manufacturers instructions before using any vacuum seal containers in the microwave. As a general rule the lower portion of vacuum seal containers is microwave safe. the upper portion or lid is usually not microwave safe, the valve used to create a vacuum seal is more delicate and placing it in the microwave may damage it. Additionally the lower container should only be used to reheat foods, not to cook them.
Are Vacuum Seal Containers Dishwasher Safe?
Always check with the manufacturers instructions before placing vacuum seal containers in the dishwasher. As a general rule vacuum seal containers are safe in the top rack of your dishwasher. Do not place them in the lower as the temperature is usually higher on the lower rack and may damage the container.
Featured Vacuum Sealer Review

Featured Product Review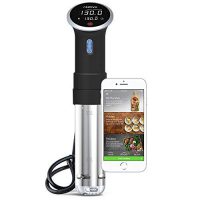 Anova Bluetooth Sous Vide Sous Vide
The Anova Bluetooth Sous Vide Precision Cooker is our higher rated sous vide model, it strikes a perfect balance between quality, features, and pricing. It's the perfect choice for almost everyone.
Reviewer:
CulinaryReviewer.com Staff
-
March 29, 2019
Rating:
Read Our Full Anova Bluetooth Sous Vide Review
Related Product
Vacuum Sealer Related Pages