If you're thinking of buying a food vacuum sealer, you may have some questions, we've collected the most popular questions and answers in one easy to use section.
Vacuum Sealer FAQ

Does a vacuum sealer save money??
Yes using a vacuum sealer really can save you money. If you properly seal your food before you store you can dramatically extend how long you can store it before it goes bad. The longer you can keep something fresh the more likely you are to use and the less likely you are to throw it away.
Does a vacuum sealer prevent freezer burn??
Yes, a vacuum sealer can prevent freezer burn. By removing much of the air from the package before freezing you limit the amount of ice crystals that can form on frozen food items. Preventing ice crystals prevents freezer burn.
What kind of foods can you vacuum seal??
You can vacuum seal most types of fruits vegetables, meats, chicken, seafood, nuts, soups, flours, sugars and more. You can vacuum seal both raw and cooked foods, just be careful and don't mix raw and cooked foods in the same bag.
Are there any kind of foods you can't vacuum seal??
You can't vacuum seal cruciferous vegetables. Cruciferous vegetables include arugula, bok choy, broccoli, brussels sprouts, cabbage, cauliflower, collard greens, horseradish, kale, mustard greens, radish, rutabaga, turnip, and watercress. Cruciferous vegetables emit a gas as they ripen, this will allow the bag to fill with air and the food to spoil. You also can't vacuum seal mushrooms, garlic and soft cheeses like blue cheese.
Can you vacuum seal delicate foods??
Delicate foods like soft berries, lettuce, potato chips, bread, and other baked goods can be difficult to vacuum seal. In most cases, the vacuum pressure will crush these foods. If you get vacuum sealer with pulse mode you can vacuum seal these delicate items my adjusting the vacuum as the sealing process is going on.
How can you prevent freezer burn??
You can prevent freezer burn by using a paper towel to blot off as much surface moisture from foods as possible before putting it in the vacuum bag.
Do you have to use special bags??
Different manufacturers of vacuum sealers design their vacuum sealers to operate at slightly different temperatures, this means that bags from one manufacturer may not work in a vacuum sealer from a different manufacturer. You have two options, you can buy bags from the same company that makes your vacuum sealer, or you can use Generic Vacuum Sealer Bags. Generic Vacuum Sealer Bags also known as Universal Vacuum Sealer Bags are designed to work across a range of temperatures to be compatible with different brands of vacuum sealers. You can learn more on our Vacuum Sealer Bag FAQ page.
Are vacuum seal bags safe??
Yes vacuum seal bags are safe, almost all bags are BPA free and are not known to cause any health issues.
Can you reuse vacuum seal bags??
In most cases, you can rinse and reuse seal bags more than once. If you have used your vacuum seal bag to store raw meat you should never reuse it. Small microbes can live in the creases and crevices inside they and allow bacteria to grow.
Can you microwave vacuum sealed food??
Most vacuum bags are microwave safe and simmer safe. If you are microwaving a vacuum sealed bag with a liquid you should be use caution as the liquid can get very hot and cause burns.
You can learn more about Vacuum Sealers in our Vacuum Sealer Buying Guide, How to Choose A Vacuum Sealer Guide, or Vacuum Sealer FAQ. For help finding the right model be sure to visit our Vacuum Sealer Reviews or Vacuum Sealer Bag Reviews pages.
Featured Vacuum Sealer Review

Featured Product Review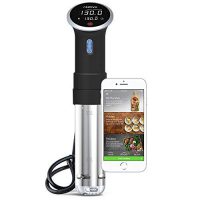 Anova Bluetooth Sous Vide Sous Vide
The Anova Bluetooth Sous Vide Precision Cooker is our higher rated sous vide model, it strikes a perfect balance between quality, features, and pricing. It's the perfect choice for almost everyone.
Reviewer:
CulinaryReviewer.com Staff
-
April 5, 2019
Rating:
Read Our Full Anova Bluetooth Sous Vide Review
Related Product
Vacuum Sealer Related Pages