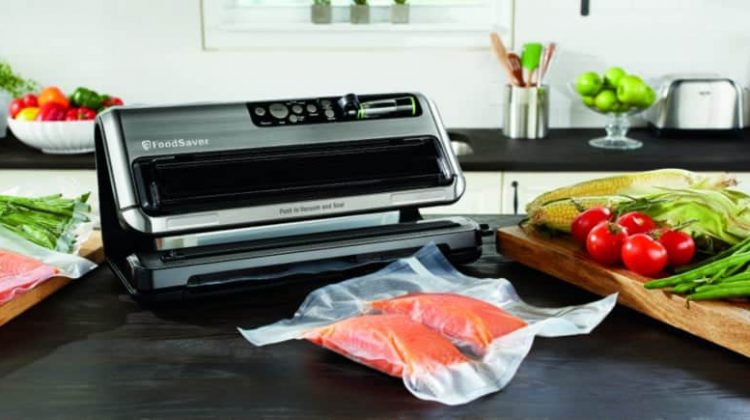 Our Expert Kitchen Staff reviewed 39 different Vacuum Sealers using this criteria: Features Offered, Ease of Use, Quality, and Value. Our highest rated vacuum sealer is the FoodSaver FM5200 which scored a 4.75 out of 5. This model features: on-board bag roll storage and cutter, a starter kit of vacuum sealer bags and rolls, a removable dishwasher safe drip tray, different food settings, marinate mode, pulse mode for delicate items, and a retractable handheld sealer for sealing pre-cut bags, vacuum seal containers, and canisters. The average price for this model is $170.06 .
For people shopping with a smaller budget, we recommend our second highest rated vacuum sealer the NutriChef PKVS18SL which scored 4.5 out of 5 and has an average price of $59.99 . It doesn't have as many features as our top recommendation, but it's still a great choice. For customers with a slightly larger budget, or have had problems with vacuum sealers breaking we recommend the Weston Pro Advantage. It costs more than the average vacuum sealer at $139.99 but it's a much more durable and well made appliance. The vacuum sealer review table below gives you a quick overview which links to a more detailed review. We have also highlighted some models in our Comparison Table.
Vacuum Sealer Reviews

You can learn more about Vacuum Sealers in our Vacuum Sealer Buying Guide, How to Choose A Vacuum Sealer Guide, or Vacuum Sealer FAQ. For help finding the right model be sure to visit our Vacuum Sealer Reviews or Vacuum Sealer Bag Reviews pages.
Shopping For A Vacuum Sealer
When you're shopping for a Vacuum Sealer here's what we feel are the most important features to look at:
Professional Grade: These models are usually made of stainless steel instead of polycarbonate plastic. The vacuum motors are stronger and more durable. These models will last a lot longer but also come at a premium price.
Manual vs Automatic: A manual vacuum sealer is operated by you placing the bag in a slot or on a sealing tray, locking the bag in place, and then pressing a button to begin the vacuum sealing. An automatic bag sealer "grabs" the bag when you slide it into the slot, holds it in place, vacuums out the air, and releases it. An automatic sealer is a convenience feature but it's nice to have. This feature is very helpful for older people who have trouble gripping or have arthritis.
Bag Roll Storage: Having on-board bag roll storage is another convenience feature, but it's one we thing is important. When you want to vacuum seal something the bag roll and cutter are right there, there's no hnting around the kitchen to find where someone put the roll of bags.
Food Settings and Marinate Mode: If you're planning on using a vacuum sealer for Sous Vide Cooking this is an important feature. This allows you to tell the vacuum sealer what type of food you're sealing so it can adjust the pressure to match the food. Marinate Mode tells the vacuum sealer you are sealing meat in a marinade, it increases the pressure to force the liquid into the meat fibers, making your end product taste better.
Pulse Mode: Pulse mode is used when you are vacuum sealing delicate items like bread, it's used to prevent the food from being crushed, by slowly vacuuming the air out in short pulses.
Drip Tray: If you're going to be using marinate mode or sealing foods with liquids you're going to want a drip tray to catch the excess liquid. Having a removable drip tray is another nice convenience feature, it allows you to take the drip tray out and run it through the dishwasher to prevent cross contamination.
Accessory Port and Handheld Accessory: If you're planning on using pre-cut bags, re-usable bags, vacuum seal containers or canisters this is a feature you want, because it allows you to connect to these different items.
Vacuum Sealer Comparison Table

Vacuum Sealer Reviews By Brand
FoodSaver Vacuum Sealers
Weston Vacuum Sealers
NutriChef Vacuum Sealers
Featured Vacuum Sealer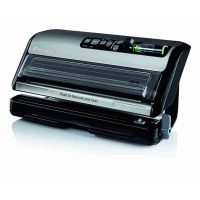 Foodsaver Fm5200 Vacuum Sealer
The FoodSaver FM5200 is our highest rated vacuum sealer, it provides the right combination of the most useful and easy to use features for a great price.
Reviewer:
CulinaryReviewer.com Staff
-
October 24, 2018
Rating:
Read Our Full FoodSaver FM5200 Review
Related Product
Vacuum Sealer Related Pages