Our reviewers looked at 33 different Sous Vide models including 1 from Vava. We reviewed each model for quality, features offered, ease of use, controls, power, flow rate, and connectivity. You can compare this model to one of our top recommendations the Wancle Sous Vide SVC001 which we feel is a much better value for your money. You can read a more detailed review by clicking the link in the table below.
VAVA Sous Vide Reviews
Use the table below to compare VAVA Sous Vide Reviews, you can click the product at the top column to read a more detailed review.
VAVA Sous Vide Comparison Table

Vava Sous Vide Va-Eb016 Sous Vide
The Vava Sous Vide VA-EB016 is a sous vide cooker that's best suited for someone who will only be using it occasionally or is shopping on a budget and needs a value priced model.
Reviewer:
CulinaryReviewer.com Staff
-
March 23, 2019
Rating:
Read Our Full Vava Sous Vide VA-EB016 Review
Featured Sous Vide Review
Featured Product Review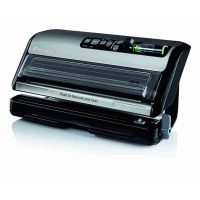 Foodsaver Fm5200 Vacuum Sealer
The FoodSaver FM5200 is our highest rated vacuum sealer, it provides the right combination of the most useful and easy to use features for a great price.
Reviewer:
CulinaryReviewer.com Staff
-
March 23, 2019
Rating:
Read Our Full FoodSaver FM5200 Review
Related Product
Sous Vide Related Pages