Wancle is an international small appliance company, and focuses on using technology to make cooking easier. We have reviewed 1 Wancle product. Their product line includes Kitchen Gadgets and Sous Vide.
Wancle Sous Vide Reviews
Featured Wancle Product Review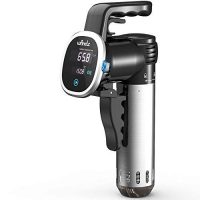 Wancle Sous Vide Svc001 Sous Vide
The Wancle Sous Vide is our second highest rated model, it has the features most people are going to need, making it a lot more budget friendly than some other models. It's a good quality model available at a great value price.
Reviewer:
CulinaryReviewer.com Staff
-
February 6, 2019
Rating:
Read Our Full Wancle Sous Vide SVC001 Review
Related Product
Related Pages