You can find directions for many of the Weston products we have reviewed in the table below.You can contact Weston via Weston Web Support or by telephone at (800)-814-4895.
Their product line includes Blenders, Deep Fryers, Dehydrators, Juicers, Kitchen Gadgets, Meat Grinders, Pasta Machines, Slow Cookers, Vacuum Sealers and Vacuum Sealers Bags. Weston products come with the following warranty: 1 Year.
You can read detailed reviews on these products on the Weston Small Appliance Reviews.
See our complete list of Small Appliance Directions or Small Appliance Brand Information.
Featured Weston Product Review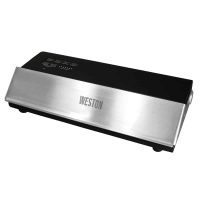 Weston Pro Advantage Vacuum Sealer
If you're looking for a professional grade Vacuum Sealer without having to spend a fortune look at the Weston Pro Advantage, it's solid metal body and high quality construction are unmatched in consumer models.
Reviewer:
CulinaryReviewer.com Staff
-
February 2, 2019
Rating:
Read Our Full Weston Pro Advantage Review
Related Product
Related Pages