Weston Supply is small appliance company headquartered in North Carolina. Their products are designed to be the highest quality products for hunters, gatherers, chefs, and food enthusiasts. We have reviewed 3 Weston products. Their product line includes Blenders, Deep Fryers, Dehydrators, Juicers, Kitchen Gadgets, Meat Grinders, Pasta Machines, Slow Cookers, Vacuum Sealers and Vacuum Sealers Bags. We also have a library of Weston Instruction Manuals. Weston products come with the following warranty: 1 Year.
WestonVacuum Sealer Reviews

WestonVacuum Sealer Bags Reviews
Weston Vacuum Sealer Bags
Featured Product Review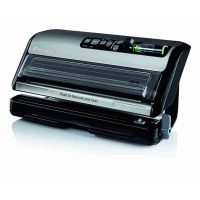 Foodsaver Fm5200 Vacuum Sealer
The FoodSaver FM5200 is our highest rated vacuum sealer, it provides the right combination of the most useful and easy to use features for a great price.
Reviewer:
CulinaryReviewer.com Staff
-
November 30, 2021
Rating:
Read Our Full FoodSaver FM5200 Review
Related Product
Related Pages