Weston Supply is small appliance company headquartered in North Carolina. Their products are designed to be the highest quality products for hunters, gatherers, chefs, and food enthusiasts. We have reviewed 3 Weston products. Their product line includes Blenders, Deep Fryers, Dehydrators, Juicers, Kitchen Gadgets, Meat Grinders, Pasta Machines, Slow Cookers, Vacuum Sealers and Vacuum Sealers Bags. We also have a library of Weston Instruction Manuals. Weston products come with the following warranty: 1 Year.
WestonVacuum Sealer Reviews

WestonVacuum Sealer Bags Reviews
Weston Vacuum Sealer Bags
Featured Weston Product Review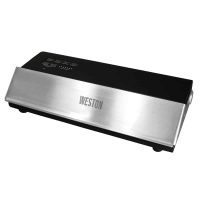 Weston Pro Advantage Vacuum Sealer
If you're looking for a professional grade Vacuum Sealer without having to spend a fortune look at the Weston Pro Advantage, it's solid metal body and high quality construction are unmatched in consumer models.
Reviewer:
CulinaryReviewer.com Staff
-
April 8, 2019
Rating:
Read Our Full Weston Pro Advantage Review
Related Product
Related Pages